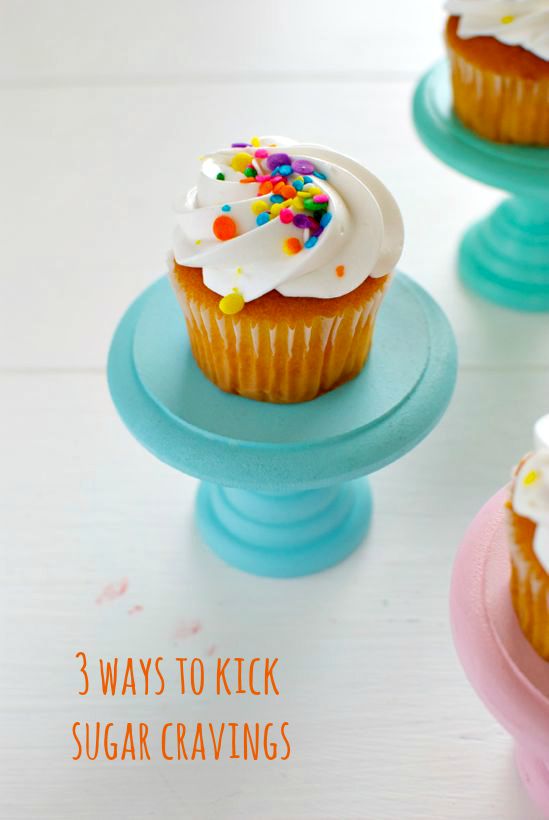 I have a serious sweet tooth.
On a good day, that means I have dessert after dinner. A bad day? I snack on little handfuls of candy between every meal.
Recently, I've realized this habit needs to change.
While there's nothing wrong with indulging in sweets occasionally (since ice cream cones in the summer and warm cinnamon rolls wintry weekend mornings are some of life's true pleasures), my sugar habit is just that – a habit. Anytime you recognize an unhealthy habit, it's helpful to pause, see why it's developed, and think about realistic ways to change.
So I did this, and found that my own eating patterns are consistent with what science and research tells us about sugar cravings: I'm reaching for sweets when I haven't eaten enough protein or healthy fat, when I'm thirsty, and at the times I'm accustomed to eating sugar. 
Luckily, addressing these particular sugar cravings is pretty easy (on paper, at least).
Here are three ways to prevent excess consumption of sweets:
1. Eat more protein and healthy fat at meals and snacks.
Ever notice that you're starving a mere hour after eating a salad? That's because your body burns through fruits, veggies and grains pretty quickly. Adding protein from fish, beans, or meats really boosts the satisfaction of meals and snacks. Nuts, oils, avocado and other healthy fats help satisfy you for longer too. When you're satisfied after a meal, you're much less likely to crave sweets.
2. Before reaching for sweets, have a glass of water.
People often confuse hunger with thirst. If you make a point to drink a glass of water every time you feel like eating something sweet, you may notice that the water prevents the craving some of the time. Water can also help you recognize that you're full, which makes sweets less appealing.
3. Replace unhealthy habits with healthier ones.
If you've been eating ice cream after dinner for the last decade (not that I know anyone like that…eh hem…), your brain and stomach are going to expect ice cream after dinner. Rather than attempting to stop cold turkey, which rarely works, make a list of things you could do instead during this window of time, like taking a walk, organizing a cabinet, doing an art project, etc. If you keep yourself busy with a non-eating activity for three nights in a row, you may find that on the fourth night you're not craving the ice cream as much. After two weeks you may not even think about ice cream at all. They key here is to replace your bad habit with a good one.
Any other scenarios in which you find yourself craving sweets for no real reason? I'd love to hear about them. Sugar cravings can be intense and we can help support each other in our efforts to eat less sugar!