After 5 weeks on the road, we're finally home.  It was an amazing trip in every way, and the 17 states we visited had endless amounts of delicious food to offer.  Here are some of the highlights: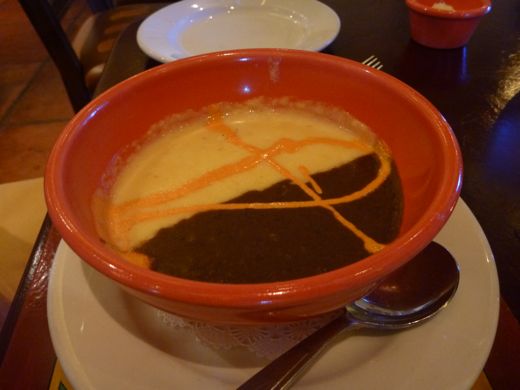 Creamy Black Bean & Fresh Corn Soup from The Turquoise Room at La Posada Hotel in Winslow, Arizona.
Smoky Nachos from the Cowgirl Cafe in Santa Fe, New Mexico.
BBQ Dinner at The Salt Lick in Driftwood, Texas.  The Chopped Beef Sandwich here was my favorite meal of the trip.
Hot, fresh French bread from Lejeune's Bakery in Jeanerette, LA (aka very rural Southern Louisiana)
Creamy Grits with Butter and Sugar at Cafe Amelie in New Orleans, LA…which ties with these
Wood-Fired Oysters at Cochon for best dish we ate in New Orleans.
MoonPie, which we enjoyed as we drove 180 miles on the most beautiful stretch of road I've ever seen:
The Natchez Trace Parkway, which is itself worth a trip to Mississippi.
Insanely sweet cherry tomatoes at the farmer's market in downtown Nashville, TN.
Nut-crusted fried chicken from Tupelo Honey Cafe in Asheville, NC.
Shredded cantaloupe over ice cubes, made by my aunt's housekeeper in Washington, DC (perfect for HOT weather).
Artichoke pizza from Artichoke Pizza in New York City.  Best pizza on earth.
"The Hurler" (aka cheeseburger on a jelly donut with Cheez Whiz) at a summer league baseball game on Cape Cod.  This isn't a highlight because of it's deliciousness per se, but more because of it's outrageous-ness.  But it was tastier than you'd think.
Sticky bun from the Great Island Bakery in Yarmouth, MA.
Steak & Gorgonzola pizza from Upper Crust Pizzeria in Boston, MA.  A close second to Artichoke in NYC.
Margaritas on the rocks at Casa Romero in Boston, MA (my favorite margaritas outside of Mexico).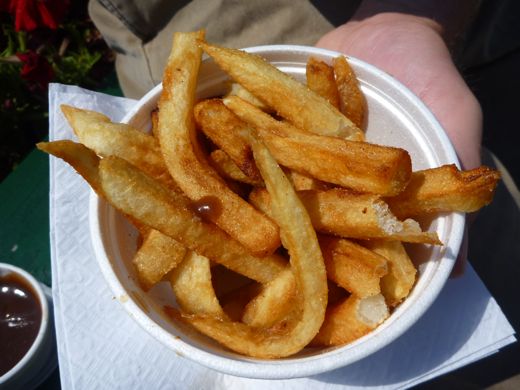 French Fries with gravy from Mr. Chips Fry Truck in Parry Sound, Ontario, Canada (did you know Canadians love fries?).
Seafood chowder with Greek Salad at Kellerman's Resort in Parry Sound, Ontario, Canada.
Want more road trip pictures?  Here they are.