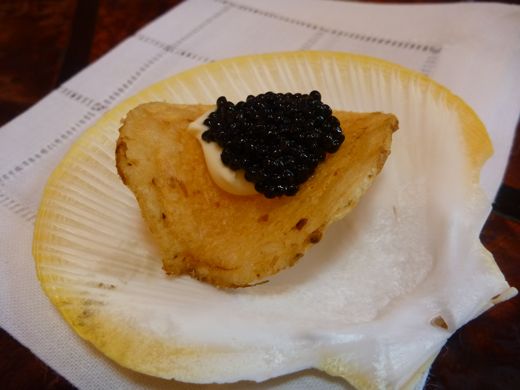 Unless you're a lifelong foodie or an accomplished chef, you probably don't buy or eat much caviar.  But this quick and outrageously delicious appetizer will change that, and inspire you to splurge a little for your next dinner or cocktail party.  Yes caviar is expensive, but just a tiny spoonful per person will do it, and after you see how loved your guests feel you'll know its worth it!
Chips with Creme Fraiche and Caviar
Ingredients
2 ounces Caviar
¼ cup Creme Fraiche
16 Kettle Cooked Potato Chips
Instructions
Lay 16 large, unbroken chips out on a large platter (use good quality chips, like Kettle Chips). Place a small dollop of creme fraiche on each chip, then top with a tiny spoonful of caviar. 2 oz of caviar should make at least 16 of these, and 1-2 per person is plenty for this appetizer. Serve this first, with glasses of champagne or white wine, for an impressive beginning...then move on to the other apps!