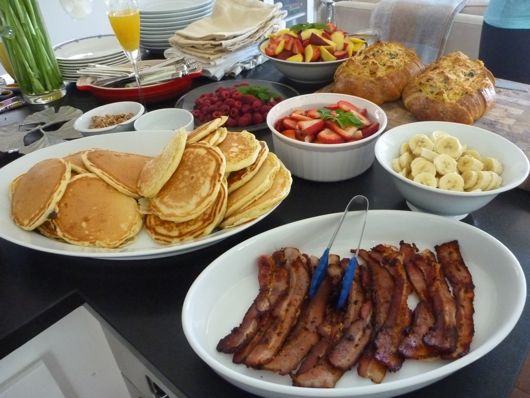 Father's Day calls for some major leisure time with Dad.  A delicious, no-stress brunch is a great start to the day.  Here are some easy food & beverage ideas:
Beverages
Bloody mary bar: tomato juice, vodka, worcestshire sauce, Tabasco, limes, olives, celery, horseradish, ice, cups.
Mimosas: pitcher of OJ (or fruit puree…below I have mango puree with fresh mint) + champagne.
Coffee bar: fresh brewed coffee, warmed milk or cream, flavored syrups, cinnamon, cocoa powder.
Smoothie bar: fresh juices, milk, ice, frozen fruit, yogurt + a blender.
Eats
Egg-stuffed bread: This amazing breakfast item can be served warm or at room temperature, and is even great leftover, just heat in the toaster oven.  See recipe below photos.
Pancakes: Heat up the griddle and whip up a few batches, then keep warm in the oven on low (200) until ready to serve.  Bonus: you can also use the griddle for bacon.
Yogurt & Granola: Buy a couple flavors of granola and serve alongside yogurt with fresh fruit so people can make their own parfaits.  If you're feeling ambitious, make your own Maple Pecan granola.
Frittata: Great served warm or at room temperature (which is key, because you don't want to be slaving over omelets on a hot stove while your guests are relaxing).  Try this Chard & Salami Frittata from Bon Appetit.
Muffins or quick bread.  My favorite muffins to serve are Raspberry Corn Muffins, as they're a nice change of pace and a crowd-pleaser, as is my banana bread.
Caprese Salad: Layer thick slices of tomatoes, fresh mozzarella, and plenty of basil leaves and drizzle with olive oil, then sprinkle with salt & pepper.
Big Fruit Platter: Pile 3-4 types of ripe & colorful fruit on a platter and let guests nibble away. (Stick to 3-4 kinds so it looks clean and pretty even after it starts to be eaten).
Egg-Stuffed Bread
Ingredients
1 small loaf rosemary or olive bread
3 eggs
1 cup low-fat milk
2 tbsp lemon juice
1 tbsp olive oil
¼ cup parmesan cheese
¼ cup chopped basil leaves
Pepper to taste
Instructions
Preheat oven to 350 degrees. Cut the top off of the bread and remove most of the bread from the inside of the loaf, being careful not to poke any holes in the bread shell. Break the bread you removed into small chunks and set aside.
Paint the inside of the bread loaf with the olive oil and place on a cookie sheet covered in tinfoil. Bake for 10 minutes.
Meanwhile, in a large bowl, whisk together the eggs, milk, lemon juice, parmesan cheese, and basil. Add the reserved bread chunks and toss to coat. Remove bread shell from the oven, and pour this mixture into it. Bake for about 50 minutes, or until the egg part of the bread looks firm. Let cool for 5 min and slice bread into thick slices.
Notes
This recipe was adapted from a recipe created by Giada de Laurentis.