Peaches rule, but sometimes nectarines are even better.  In their peak ripeness, they are SO packed with flavor and have a bite to them that surpasses even the ripest peach.  And because their skin is soft and fuzz-less, you don't have to remove their peel before using them in recipes.
This nectarine smoothie is creamy, smooth, and tastes like summer.  It would also be delicious with any other stone fruit: peaches, plums, apricots, or the white-fleshed versions of any of these fruits.  Alter it however you like and enjoy!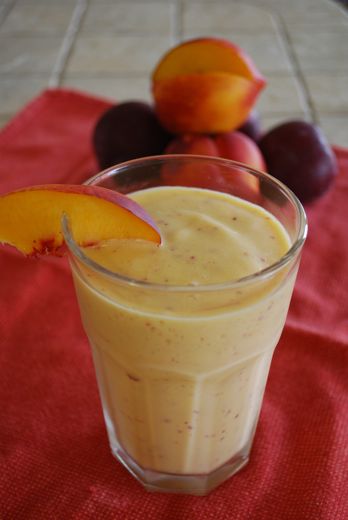 Fresh Nectarine Smoothie
Ingredients
2 whole Nectarines, cut into chunks
½ cup Vanilla Soymilk
1 cup Plain Nonfat Greek Yogurt
Ice cubes
1 cup Mango, fresh or frozen in chunks
Instructions
Add the fruit, yogurt, and soymilk to a blender. Pulse to combine, then add ice cubes and continue to pulse until you've reached a thick consistency. That's it!