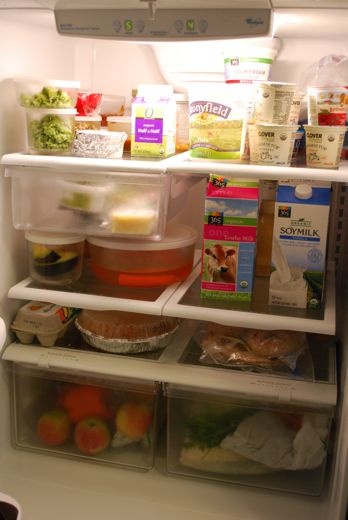 You need a well-stocked pantry in order to quickly whip up a healthy meal on a busy weeknight.  But having some staple items on-hand in the fridge and freezer is just as important.  Exactly what you choose to stock up on will of course vary depending on your food tastes and favorite meals, but here are the items I almost always have around.
In the fridge:
1 kind of fresh herb (basil, parsley, cilantro)
1-2 fresh veggies (1 is usually salad greens – salads are the quickest meal!)
1-2 fresh fruits
eggs
butter
a soft cheese (for salads) and a hard cheese (for melting or boosting flavor in cooked dishes)
light mayonnaise (for dips, creamy dressings, and salmon/tuna/egg salad)
Dijon mustard
low-fat milk (not just for cereal & coffee, but also baking, sauces, soups, dressings)
plain yogurt (topping for chili/soup/Mexican dishes, add to dips/dressings, use in sweet dishes & baked goods)
1 kind of salad dressing (if you don't like to make your own)
hummus or other store-bought dip/spread (for sandwiches, wraps, veggie-dipping, salad topping)
In the freezer:
whole wheat bread, pita, or tortillas
1 kind of meat (ground beef or turkey, chicken breasts or thighs, chicken sausages)
pesto (in small plastic containers)
veggie burgers (Gardenburgers or Dr. Praeger's are my favorites)
frozen spinach (mix into pasta, sauces, omelets, lasagna, meat dishes, put on pizza)
frozen corn (for salad toppings, tostadas, tacos, pasta
frozen peas (add to sauces, pastas, blend into a spread or soup)
1-2 kinds of frozen fruit (smoothies, sauces, thaw & blend into salad dressing or oatmeal)
1 frozen pizza for "emergencies" (add thawed & drained spinach and corn)
These, combined with some pantry staples, will give you the tools you need to be a quick & able chef!