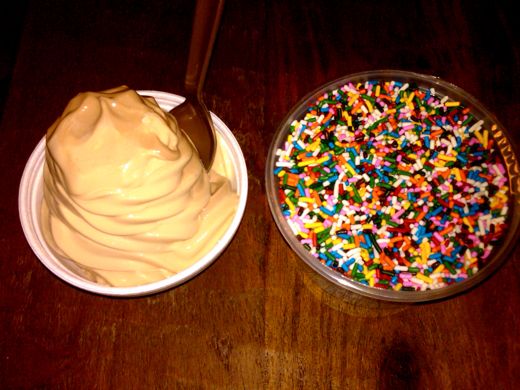 I have been a soft-serve fanatic as long as I can remember.  Whether it's old-school TCBY at the airport, a vanilla cone from Dairy Queen in a rural mid-western town, or a random compilation of flavors at a trendy new self-serve yogurt shops, I love it.  But of course not all frozen yogurts are created equal, and we all have our favorites.  Below are my own great soft-serve loves.  Please share some of yours!
1. McConnell's in Santa Barbara.  This place offers roughly 10 flavors of soft-serve ice cream and yogurt at all times, but their vanilla custard reigns supreme in my book – I get it every time!
2. The Bigg Chill.  LA's longest-standing frozen yogurt shop, this place has withstood all the fuss from trendy new yogurt shops, and still serves up to 1500 people per day on weekends!
3. Tasti D-Lite.  I'm not sure what this stuff is made of, but I love it.  There's nothing quite like stopping for a little low-calorie cone of Tasti as you window shop along a classic New York City street.
4. Dairy Queen.  Yes, it's fast food.  But Dairy Queen vanilla cones are a classic, and never get old for me.  (Bonus: you can find Dairy Queens in the middle of nowhere!)
5. Foster's Freeze. This classic opened in the 1940's, so could really be considered California's oldest fast-food chain.  There aren't too many of them left, but the soft-serve here is still awesome.
6. Golden Spoon.  These yogurt shops offer hefty portions of nonfat and low-fat fro yo, in such a delicious array of flavors, you'll want to add 3 or 4 to your cup each time you go!
7. Yogurt Stop.  I don't know what it is about this yogurt, but it tastes amazing every time.  This West Hollywood store was one of the first places to offer self-serve.
What are your own favorite yogurt shops?  Leave a comment for a chance to win FREE OIKOS FROZEN YOGURT (my favorite in-home yogurt choice!).  Winner picked randomly on Wednesday January 11th!

GIVEAWAY ENDED