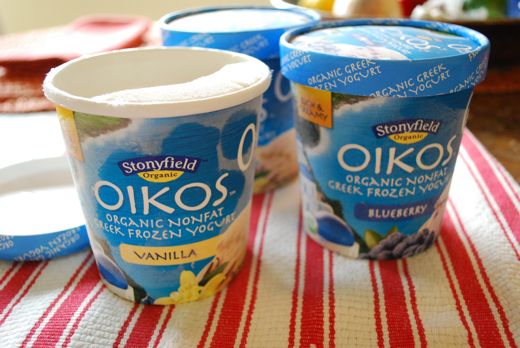 I LOVE (understatement) soft serve frozen yogurt.  Something about the soft, airy, whipped consistency just does it for me, no matter the flavor.  As much as I've searched, I've never found a hard frozen yogurt that rivals how I feel about soft serve.  Until now.
A few weeks ago, Stonyfield launched their Oikos Greek frozen yogurt, and I can say without an ounce of doubt that this stuff is GOOD.  It's so thick and creamy that you'd never guess it's fat-free and only about 100 calories per serving.  I also love that it's sweet but not too sweet, and of course that it's organic.
My favorite Oikos frozen flavor is vanilla, since vanilla is always my favorite flavor of any yogurt or ice cream.  Check out all these vanilla bean specks!  Mmmm…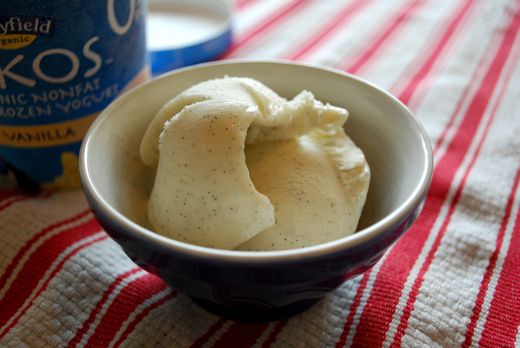 If you're into more exciting flavors, frozen Oikos also comes in blueberry (real blueberry):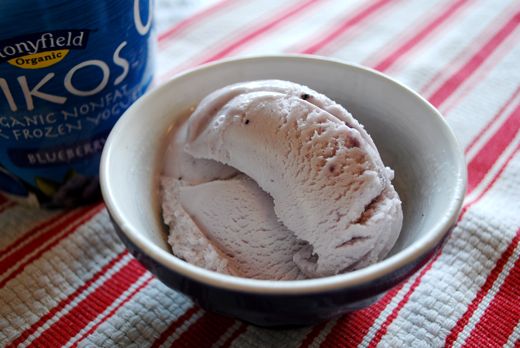 as well as chocolate and honey, which I also love, since it's the first honey frozen yogurt I've seen:
As you can see I was not exactly bummed about photographing Oikos frozen yogurt for this blog post, despite the fact that it was early morning, since of course that meant I then had to eat what I had served up…
YESSS!
Want to find Stonyfield frozen Oikos in a store near you?  Whole Foods now carries it.  If you don't have one in your area, here's a store finder.
** Note: I received this frozen Oikos from Stonyfield, but this is not a sponsored post. These are my unbiased opinions!**