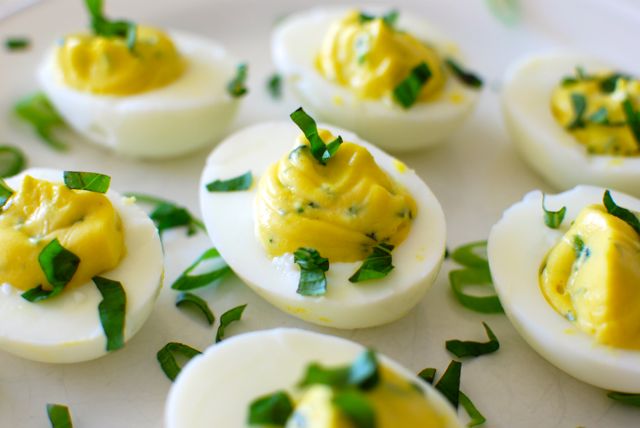 Making an appetizer for this year's Fourth of July picnic or BBQ?  Try these creamy, tangy deviled eggs. They're a bit healthier than traditional deviled eggs thanks to the Greek yogurt used in place of mayonnaise or cream.
Remember to look for pasture-raised or organic eggs, to make sure the hens providing for your deviled eggs were treated humanely and healthfully. Here's an explanation of egg labels and how to find good eggs. Have a brand you like? Check to see how they rate on this egg scorecard.
For this recipe I used Pete & Gerry's organic eggs. Look at these amazing golden yolks! (That's what you get when the hens graze on pasture instead of just commercial feed in cages or overcrowded warehouses.)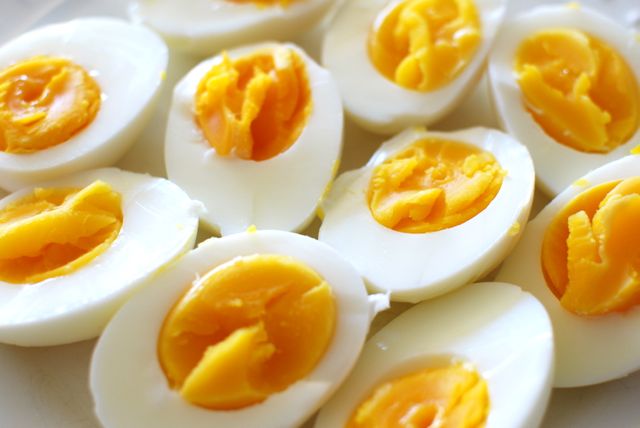 I also love that Pete & Gerry's come in a package made from recycled plastic water bottles – that's a big win in my book.
As always, I also recommend using organic Greek yogurt, since choosing organic ensures your yogurt is free of toxic pesticides, GMO ingredients and artificial growth hormones.
Greek Yogurt Deviled Eggs
Deviled eggs are an American classic, but need a little lightening up for the summer picnic months. These Greek yogurt deviled eggs give you all the richness and comfort you expect, with a little extra flavor and tang.
Ingredients
12 organic eggs - cooled, boiled and peeled
⅓ cup Greek yogurt
1 Tbsp olive oil
½ tsp salt
1 heaping tsp Dijon mustard
5 basil leaves, rough chopped
½ green onion, or 2 Tbsp chopped chives
Instructions
Place basil and green onion/chives in a food processor (mini if possible) with the salt, olive oil, and mustard. Pulse until finely chopped.
Cut eggs in half lengthwise and place yolks in the food processor along with the yogurt. Set whites aside on a serving platter.
Blend herbs and yolks until mixture is smooth. Scoop mixture into a piping bag (or Ziploc bag with a tip cut off) and pipe mixture into the hole of each egg white.
Garnish eggs with more chopped basil or chive/onion and serve at room temperature or chilled. Sprinkle with paprika if you like.
Since eggs can be a challenge to peel, here are some tips to make it easier.
Egg Boiling Tips
Slightly older eggs are easier to peel because there's more air between the shell and the white. Boil eggs when you've had them in your fridge for awhile for easier peeling.
Let eggs cool completely before peeling, which also makes them easier to peel.
Enjoy!
This is not a sponsored post. I received a free carton of eggs from Pete & Gerry's but was not compensated for including them in this recipe.