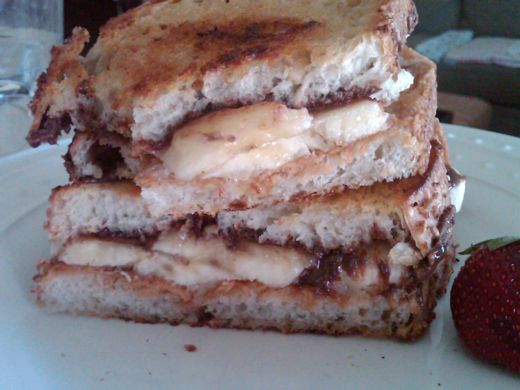 Not many things are tastier than a grilled cheese sandwich….except maybe a grilled chocolate peanut butter and banana sandwich!  As you may know, I am a huge fan of this chocolate peanut butter (you can currently get 20% off your online order of this stuff, by the way).  I use it on toast, mix it into frozen yogurt, dip strawberries in it, and occasionally just stick my finger into the jar (can't help myself).  Most recently, I made a grilled peanut butter sandwich with banana slices, which was HEAVENLY.
Grilled Chocolate Peanut Butter Sandwich
Ingredients
1 banana sliced
2 slices of sandwich bread
1 tbs butter
Instructions
Simply lather the peanut butter on one side each of two slices of bread. Slice up some bananas and put them in between, then very lightly butter the non-peanut butter sides of the bread.
Place into a skillet or grill pan over medium-low heat and let cook until the bread is golden brown on both sides. (Resist the temptation to turn up the heat, you'll end up with burnt bread). Let cool 1-2 minutes then cut in half and dig in.
RANDOMLY PICKED WINNER OF LAST WEEK'S POPCORN GIVEAWAY IS….
Waheeda, whose favorite movie was Pride and Prejudice.  Congrats!
Thank you to everyone who entered!  Stay tuned for our next giveaway!