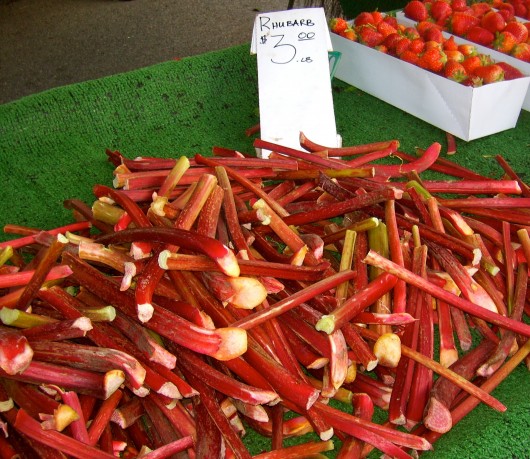 HOT PINK CELERY??!!
Nope, it's rhubarb!  Ever heard of it?  My guess is yes, but you may be unsure of what to do with it. In a minute I'll show you a quick and delicious way to eat rhubarb.  But first, let's do a quick introduction.  I'm Kari, a friend of Amelia's and also a private chef here in Los Angeles.  I love fresh, seasonal produce and consider myself somewhat obsessed with going to the farmers' market.  Even if you don't have a farmers' market near you, you can find this "hot pink celery" at your local grocery store.  Heck, you might have even picked it up and wondered what to do with it!  So now that we've gotten to know each other a bit, let's talk about how easy it is tweak something simple and ordinary like applesauce and turn it into a spring treat.
Drumroll please….Introducing Apple Rhubarb Sauce!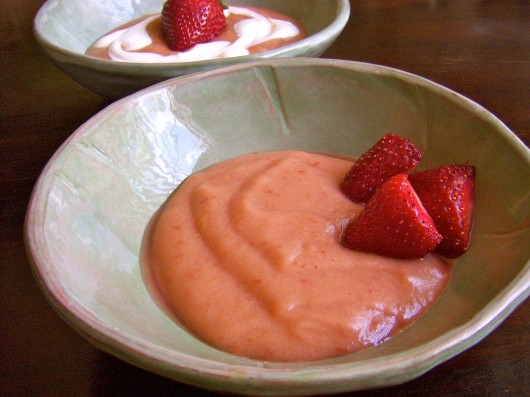 Making your own applesauce is seriously simple and takes as much time as it takes to cut an apple.  Adding rhubarb to that is just as easy, and the rhubarb adds a floral note to the finished product, not to mention colors it a lovely shade of pink that is sure to feel like a special afternoon treat, a lunchbox surprise, or a way to dress up plain old oatmeal.  My favorite way to enjoy it is to mix it with plain Greek yogurt for breakfast.  That is, if it lasts until breakfast…when I tested this recipe, I taste-tested so often that there wasn't much left for the next morning.  Oops.  Guess I'll be making this again.  Soon.
Easy Rhubarb Applesauce
Ingredients
8 apples (I used Pink Lady apples but your favorite tart apple will work just fine)
1 lb rhubarb (try to choose skinnier stalks if possible, the pinker the better!)
3 cups of apple juice (100% real apple juice, no junk added)
Instructions
Peel and core your apples and cut them up — don't worry about size or shape. Throw them into your favorite pasta pot. Wash the rhubarb and cut into small pieces, again, disregarding the need for uniformity. Pour the apple juice over, put the lid on, and cook over medium heat for about 30-40 minutes until your apples are falling apart and the rhubarb is soft. Mash with a potato masher or wooden spoon to break into small pieces.
You can call it quits at this point if you like. Chunks of apple and rhubarb mixed all together…this is what we call yummy and rustic.
If you want it to be thicker, continue to simmer for 10-15 more minutes but leave the top off of the pot.
Notes
1. If you or others in your household are finicky about texture, you can whirl the mixture in your blender or food processor to make a smooth and creamy sauce.

2. The Rhubarb is sour but the apple juice naturally sweetens this sauce. If you like a sweeter rhubarb sauce, you can always add sugar or honey to your liking. Taste it before you sweeten though, because you may enjoy it's not-to-sweet flavor more than you thought.
Thanks for inviting me to share this recipe, Amelia 🙂