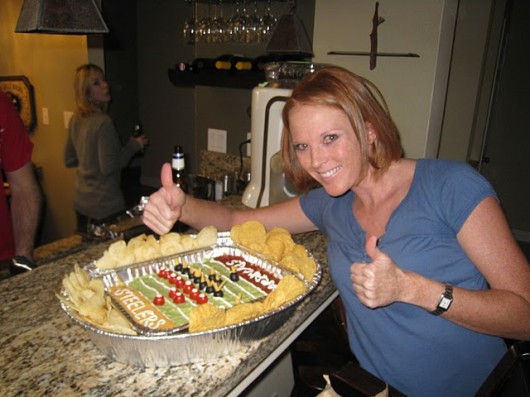 Whether you're entertaining a crowd or spending the evening on the couch with a marg and a mag, it's time to celebrate!  Make your Cinco a little more special by getting creative with whatever you cook up.  Check out my friend Jen's amazing 7-layer dip:
Clearly she makes this for the Super Bowl every year….
But what a perfect idea for Cinco de Mayo.  So follow her lead and make your dip your own!
Tips to make 7-Layer Dip a healthier indulgence:
Use canned fat-free refried beans instead of regular
Use 2% Greek yogurt instead of sour cream
Add extra tomatoes, green onions, shredded lettuce, and salsa
Use extra-sharp cheddar cheese, which is so flavorful that you can get away with using 1/2 as much
Serve with veggies in addition to tortilla chips, and opt for chips such as Baked Tostitos Scoops, or Trader Joe's Stone Ground Yellow Tortilla Chips — these have only 130 calories and 4g fat per serving, plus 4 whole grams of fiber!
Want more unique recipe ideas?
Leave a comment below to let me know what YOU'RE making for Cinco de Mayo!