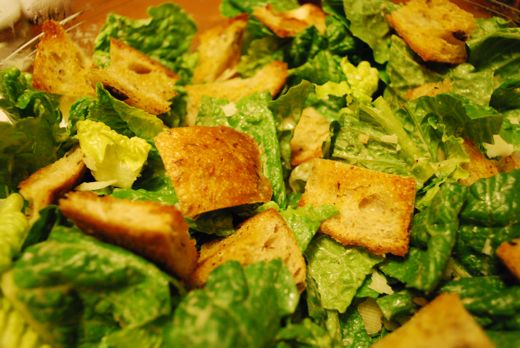 Caesar salad can be a deceptively unhealthy choice when ordered at a restaurant.  Check out the stats for Caesar salads at the following popular restaurants:
Chili's Chicken Caesar: 710 calories, 42 grams fat
Outback Steakhouse Chicken Caesar: 1045 calories, 74 grams fat
Buffalo Wild Wings Chicken Caesar: 756 calories, 55 grams fat
California Pizza Kitchen Chicken Caesar: 787 calories, 49 grams fat
Instead of indulging in one of these, try making Caesar salad with these homemade croutons at home.  Here's how I do it:
Healthier Caesar Salad
Ingredients
1 tablespoon Extra Virgin Olive Oil
2 teaspoons Dijon Mustard
2 tablespoons Light Mayonnaise
3 tablespoons White Wine Vinegar
1 pinch Kosher salt
2 Fresh Garlic Cloves, minced
1 pinch Ground black pepper
8 cups Romaine Lettuce , chopped
2 ounces Good Parmesan Cheese, shaved or shredded
1 ½ cups Croutons
Instructions
In the bottom of a large bowl, whisk together mayo, mustard, garlic, vinegars, oil, and salt & pepper.
Add lettuce and croutons to the bowl and toss with the dressing until all leaves are coated. Shave Parmesan cheese on top and serve.