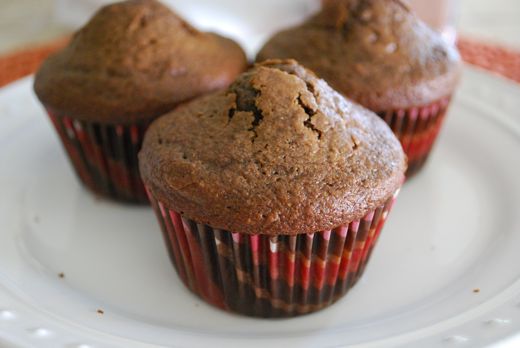 Sometimes I wake up craving something sweet, but don't want to indulge in something that will make me feel like I swallowed a bowling ball for breakfast.  These muffins are the perfect solution: they're chocolaty and moist, yet light and not-too-sweet.  Add any kind of berries, dried fruit, or nuts for some extra pizazz.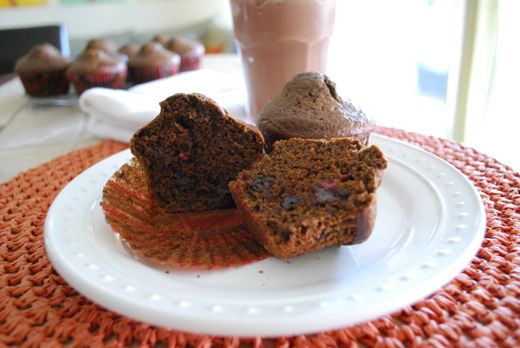 Need a cool beverage to accompany your muffins?  Try this homemade blended coffee.
Healthy Double Chocolate Muffins
Ingredients
⅓ cup Canola Oil
2 Large Eggs
2 teaspoons Vanilla Extract
½ cup Sugar
1 tablespoon Instant coffee granules
1 cup Organic Strawberries, chopped
2 cups Whole Wheat Pastry Flour
½ teaspoon Baking Powder
1 teaspoon Baking Soda
1 cup Lowfat Buttermilk
1 teaspoon Kosher salt
¼ cup cocoa powder, good quality
½ cup Mini chocolate chips
Instructions
Preheat oven to 375 degrees. Line a muffin tin with muffin cups and spray with nonstick cooking spray. In a large bowl, whisk together eggs, oil, sugar, vanilla, and instant coffee.
In a separate bowl, mix together flour, cocoa powder, baking powder and soda, and salt. Mix half of the dry ingredients into the wet, then stir in half the buttermilk. Do this again with remaining ingredients and stir until just combined (don't over-stir). Gently fold in chopped berries and chocolate chips.
Pour equal amount of batter into each of the 12 muffin cups and bake for 18-20 minutes or until a toothpick comes out clean when inserted into a muffin. Let cool in the pan for 2-3 minutes then remove muffins to a cooling rack. Serve warm with a dollop of Greek yogurt and honey, or with a little butter.