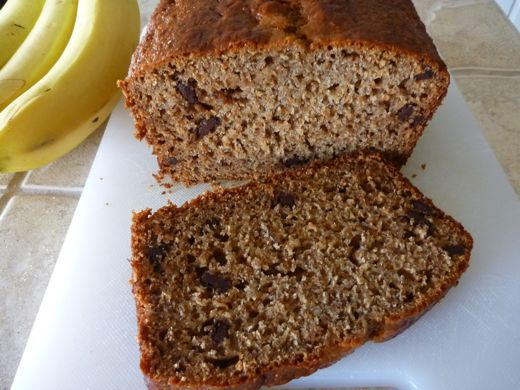 Question: Do you have a healthy banana bread recipe you can share?  I've tried a few but find the healthy recipes often turn out pretty dry. Please help!
Answer: There's nothing quite as comforting as a warm slice of homemade banana bread, but it's hard to make healthy banana bread moist.  This recipe will give you all the satisfaction of the real deal, but with fewer calories and less fat.
Amelia's Banana Bread
2 large very ripe bananas, well-mashed with a fork or whisk
1/2 cup sugar
2 Tbsp honey
2 eggs
1/4 cup canola oil
1 tsp vanilla extract
1/2 cup low-fat buttermilk
1/4 cup plain nonfat yogurt
1 1/2 cups all-purpose flour
1 cup wheat bran
1 tsp baking soda
1 tsp baking powder
1/2 tsp salt
1 tsp cinnamon
1/3 cup chocolate chunks or chips
Preheat oven to 350.  Spray a loaf pan with nonstick spray and coat with large pinch of flour (shake flour all around the pan so it's coated).  Mix first 5 ingredients in a large bowl until well-combined.  In a separate bowl, mix together the dry ingredients (minus choc chips).  Stir half of the dry ingredient mixture into the wet ingredients, then stir in the buttermilk.  Put the chocolate chips in the remaining flour mixture then add to the batter, followed by the yogurt.  Mix until just combined, then pour into the loaf pan and bake for 30 minutes.  After 30 min, turn oven down to 325 degrees and bake an additional 20 min, or until a knife/toothpick comes out clean when you poke the loaf.  Cool in pan on a cooling rack for 10 min, then remove from pan and cool another 15 min before slicing.