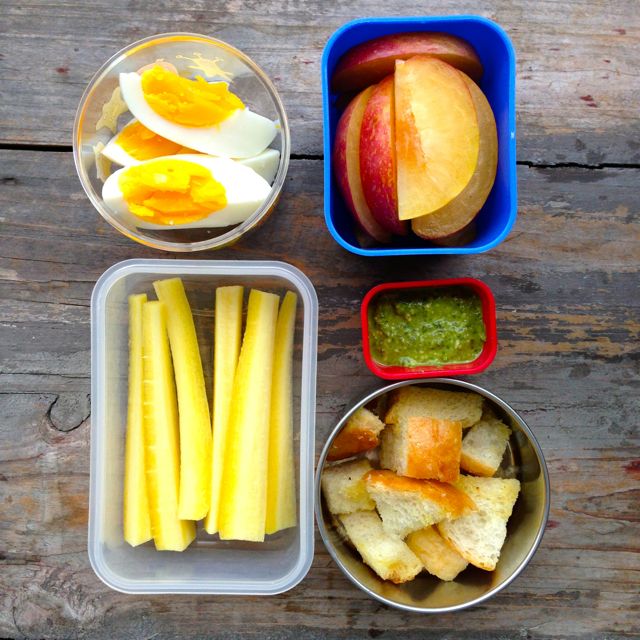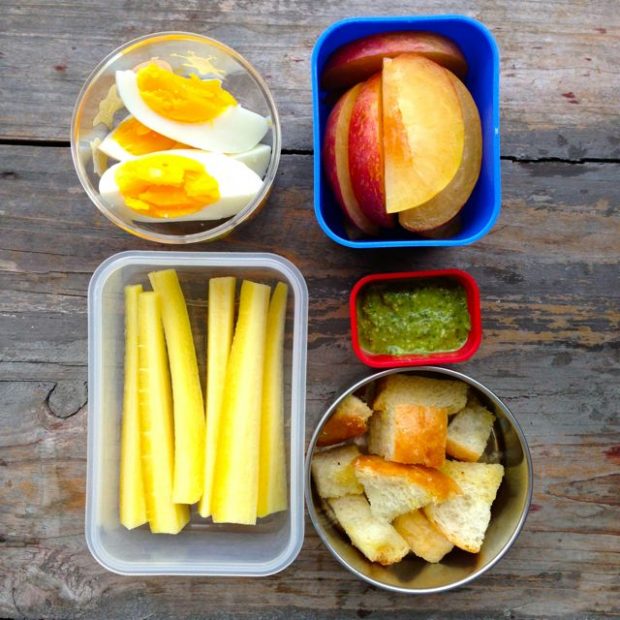 I try to make Lucy's school lunches interesting, colorful and different from week to week. Though she'd sometimes prefer to get the same thing everyday (as long as it was bread & cheese), I feel it's important to offer her a variety of foods so she can continue learning about different flavors and textures – and so she doesn't get bored.
But the truth is, I too have staple foods that I fall back on. These are foods that come in a convenient format and can be manipulated in different ways to create different lunches.
Below are my top 10 go-to foods for packing a healthy school lunch.
1. Carrots. Always big carrots – never baby – simply because I can cut the big ones into sticks or "coins," or shred them onto a little salad or a sandwich. Baby carrots are less versatile and in my opinion don't taste as good.
2. Organic deli meat. We usually have Applegate turkey or chicken breast, or Fork in the Road ham on hand at any given time. These aren't just for sandwiches, but also for wraps, kabobs, or cutting into squares to serve with cheese and crackers.
3. Organic yogurt. Stonyfield YoKids or YoBaby yogurts – in little containers or pouches – are easy to throw into lunches as the packaged "treat" or to add a little protein & calcium to the meal.
4. Organic Valley individual milks. When I really haven't given any thought to Lucy's lunch, I can always pack a vegetable and a fruit alongside cereal and milk. Just put dry cereal into a lidded container and include a little container of milk your child can pour on come lunchtime.
5. Dip. Pesto, hummus, yogurt dip, ranch, or whatever dip your kids love makes the perfect accompaniment to veggies, pita bread, croutons, tortilla chips, etc.
6. Nut or seed butter. Not just for PB & J's, but for celery, carrots, apples, waffles, graham crackers, animal crackers and more.
7. Fruit. The specific type of fruit varies depending on the season, but I like to have at least 2-3 fruits on-hand since these always get eaten, even on a day when everything else comes home untouched (yes, that happens to me too).
8. Eggs. When I've run out of meat, tofu, or beans, a hard-boiled egg or egg salad sandwich makes for a healthy, tasty protein component of the lunch.
9. Bread product. Whether it's bread, tortillas, pita, naan, whole grain crackers, rice cakes, English muffins or frozen waffles, having a bread product of some sort means I can make the "main dish" part of lunch more easily. And who doesn't love bread, right?
10. Edamame. Sometimes it's in the pods, sometimes shelled, but we always have edamame in the freezer for a quick and convenient protein source.
What does your family keeps on hand for easy school lunch packing? I'm always up for new ideas!