No matter how creative a parent you are, coming up with new, appealing, healthy lunchbox ideas is no easy task.
For this reason you've seen me post a lot about school lunch ideas, and how I try to keep lunchtime fresh and exciting for Lucy (so that she'll actually eat what I pack).
This summer, I've partnered up with some of my favorite brands on the Rock the Lunchbox campaign, which helps parents give kids what they want at lunchtime – more balanced, delicious options and plenty of variety.
Rockthelunchbox.com – brought to you by Annie's, Organic Valley, Applegate, Rudi's and Honest Kids – offers loads of lunch ideas for kids of all ages and dietary preferences, including:
Gluten-free, nut-free and vegetarian choices
Short video clips by parents that explain how to keep menus creative, packing time short, and involve the kids
Ideas for staying connected to children during the day via notes and lunchbox messages
Tips for packing a healthy lunch for picky eaters or kids with allergies
Time-saving tips to turn simple into healthy and delicious
You may not have school lunch on the mind at the beginning of summer, but with so many kids in summer school and camps, most parents don't get a vacation from lunch-packing, so new ideas are always needed!
As part of Rock the Lunchbox, these brands are asking kids to "Draw Your Dream Lunch" then tasking parents with packing a healthier version of whatever their kids desire.
Lucy absolutely loved this assignment.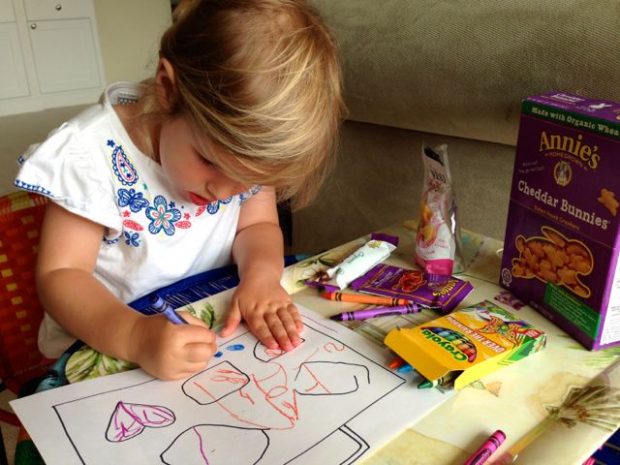 Here's what she came up with:
(She kindly told me what each item was, since her artwork is of an "abstract" style 🙂 ).
And here's what I ended up packing as a result:
Swapped out grapes for cherry tomatoes (I always aim to include one fruit & one veggie).
Used a Rudi's whole spelt tortilla and Organic Valley shredded cheese for the quesadilla.
Gave her Annie's Bunny Fruit Snacks instead of conventional candy.
Packed HonestKids Berry Lemonade in place of traditional heavy-on-the-sugar lemonade.
Lucy loved it!
Check out Rockthelunchbox.com for more lunch ideas, tips, resources and coupons!
I am a spokesperson for this year's Rock the Lunchbox campaign. This post is part of my partnership with the brands listed above, but all thoughts and opinions are my own.