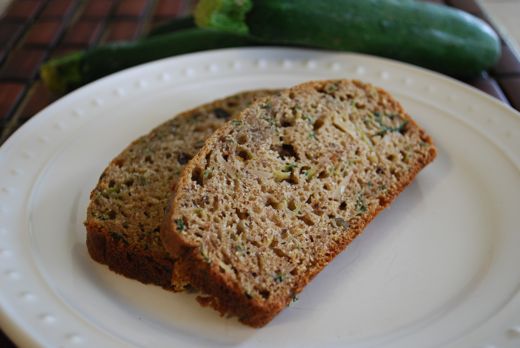 Zucchini's abound during summertime, and it's often a challenge to figure out what to do with it all, especially if you have an overflowing garden.  You can always make zucchini bread, but traditional recipes are usually high in fat, sugar, and calories, and should really be called zucchini "cake" rather than "bread."  Here's a lightened version, that's every bit as tasty as the original.
Healthy Zucchini Bread
Ingredients
2 cups shredded Zucchini
⅓ cup Canola Oil
½ cup Vanilla Soymilk (or regular milk)
3 whole Large Eggs, lightly beaten
2 teaspoons Vanilla Extract
½ cup sugar
1 cup plain yogurt
1 teaspoon cinnamon
½ cup walnuts, chopped
3 cups whole wheat pastry flour
2 teaspoons baking soda
1 teaspoon Kosher salt
Instructions
Preheat oven to 350 and grease 2 loaf pans with oil or butter & sprinkle with flour. After shredding your zucchini, mix the shreds with ¼ tsp salt and place in a fine-meshed colander over the sink. Let sit for about 15 minutes, squeezing excess water out with your fingers every 5 minutes.
In a large mixing bowl, whisk together oil, sugar, eggs, and vanilla.
In a separate bowl, combine flour, baking soda, salt, cinnamon and walnuts.
Gently stir dry ingredients into the wet. Give the zucchini shreds a final squeeze then fold them into the batter. Pour half the batter into each loaf pan. Bake at 350 for about 45 minutes or until a knife inserted into the middle comes out clean. If top is browning too much, turn oven down to 325 for remaining bake time (baking may take a bit longer).