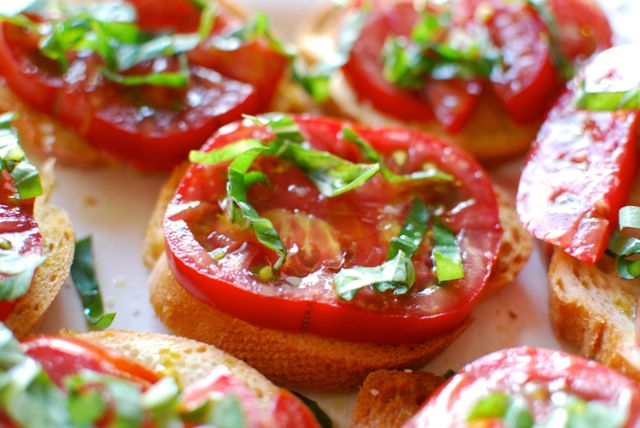 Bruschetta just means grilled bread that's been rubbed with garlic, drizzled with olive oil and sprinkled with salt & pepper. Simple, right? Then you can add any combination of toppings, from cured meat & cheese to mashed beans. My own favorite bruschetta variation is with thick slices of fresh tomato and chopped basil. It's light, simple and so fresh.
You can make this heirloom tomato bruschetta as part of dinner every night (not that I know anyone who does that…eh-hem!) or serve it as a quick appetizer when guests come to visit. Choose the freshest, ripest tomatoes you can find and make sure not to refrigerate them (or they become mealy and lose their flavor).
Enjoy these last few weeks of peak tomato season!
Heirloom Tomato Bruschetta
Ingredients
Sliced baguette
Extra virgin olive oil
salt & pepper
1 clove garlic
Fresh heirloom tomato slices - any color
Fresh basil leaves
Instructions
Drizzle baguette slices with olive oil and sprinkle with salt and pepper.
Grill the bread, or toast in the oven on a baking sheet. It will take about 5-8 minutes at 350.
Rub the toasted baguette slices with the garlic clove (use more cloves if you like a strong garlic flavor).
Top each baguette piece with a slice of tomato and some torn basil leaves.
Place all bruschetta on a platter and drizzle with more olive oil and another sprinkle of salt and pepper.
Notes
If you like a little heat, sprinkle the finished bruschetta with red pepper flakes instead of black pepper. For some creaminess, spread goat cheese on the baguette slices before adding the tomato.