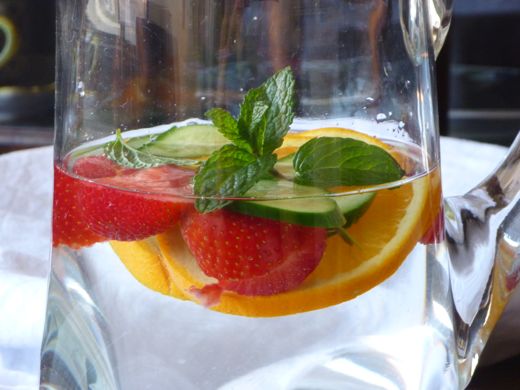 Wow.  Not sure where this insatiable hunger is coming from, but I haven't been able to stop eating today.  AND I have to bake cookies & banana breads all day for an event.  Recipe for disaster.
I know I'll regret it if I don't nip this issue in the bud early, so I just made a big bowl of oat bran cereal which always fills me up, and a pitcher of "spa water," which is a more interesting version of water that can fool you into believing your drinking something with calories.  I'm already more inspired to drink water instead of snack.
Amelia's Spa Water

pitcher of water
cucumber slices
orange, lemon, or lime slices
fresh mint
strawberry slices
Place all ingredients in the pitcher of water and stir around.  Chill.  Water will get more flavorful as it sits.  If you don't have one or more of these ingredients, just use what you have…even one of these will spice up regular water.