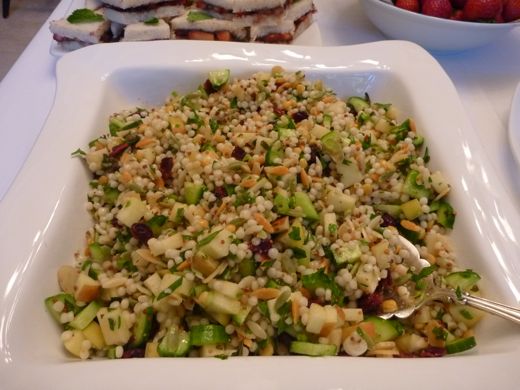 Every time I serve this salad at a party, people contact me afterward asking for the recipe.  It's a crowd-pleaser and a nice change of pace from traditional pasta salads.  For all of you who've asked me recently, here you go!
Herbed Grains Salad
Ingredients
1¼ cups dry grains medley (try Trader Joe's Harvest Grains, or any mixed grains you like such as wild rice, Israeli Couscous, whole wheat orzo, rice-lentil combos, etc)
1 large apple, diced
½-1 English cucumber (also called Hothouse, in the plastic wrapper), diced
4 green onions thinly sliced
⅓ cup dried cranberries
¼ cup toasted sliced almonds
Large handful of fresh basil leaves, roughly chopped
Large handful of fresh mint leaves, roughly chopped
¼ cup apple cider vinegar
Juice of ½ an orange or a lemon
3 tbsp maple syrup
1 tbsp Dijon mustard
¼ cup Extra Virgin olive oil
Salt & pepper to taste
Instructions
Cook grains according to package directions, making sure to include some salt in the water for flavor. When cooked, spread grains out onto a dinner plate to cool to room temperature.
In a large bowl, whisk together maple syrup, vinegar, olive oil, mustard, and lemon juice with a dash of salt & pepper. Add apples, cucumbers, scallions, herbs, and cranberries to the bowl and toss in the vinaigrette. When grains are cool, add them to the bowl (de-clumping with your fingers if necessary), along with the toasted almonds. Toss to coat. Serve at room temperature or chilled.