When summer ends and the weather begins to turn cool, I can't help but think of the holiday meals that lie ahead.  While many families whip up heavy, meaty dishes during this indulgent season, mine takes another approach.  We love to make light, veggie-heavy dishes featuring the best seasonal produce – not because we're trying to be healthy, but because this food tastes good!  Sweet potatoes, Brussels Sprouts, squashes, and hearty winter salads always occupy significant real estate on our holiday table.  However, we definitely save room for dessert!  I guess you could call our holiday tradition "Naughty & Nice."
Here are some of my family's favorite dishes.  Try them at your house this holiday season – you'll never see veggies (or cookies) disappear so fast!
Baby Greens with Persimmon and Pomegranate
The crunchy textures and sweet flavors of this salad keep everyone going back for more.  Plus, persimmons and pomegranates are only in season for a couple months every year, so I love using them as much as possible while they're around.  Mmmm.
Brussels Sprouts with Cranberries, Pistachios, and Lemon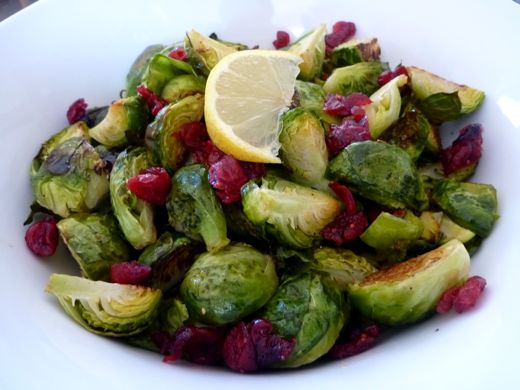 This dish will quickly erase any memory you have of mushy, bitter, cafeteria-style Brussels sprouts.  And it's super easy.  You just quarter and roast (roasting is just baking at a high temperature, like 425) the Brussels sprouts with olive oil, salt, and pepper.
Then while they're still warm, toss them with a little more olive oil plus fresh lemon juice, dried cranberries, and toasted shelled pistachios.  That's it!
I wouldn't exactly call this "light," but it is seasonal and does involve a vegetable 😉
The recipe, which my friend Kari introduced me to, is based on Ruth Reichl's, and it is so incredible, I don't recommend making it unless you have LOTS of people to share it with.  Otherwise you may end up eating a whole pumpkin yourself, which would be a shame because then you wouldn't have room for one of the best desserts in the world…
Grandma Dixie's Homemade Oreos
My grandma Dixie was making these looooong before homemade Oreos were trendy.  We've been leaving these out for Santa on Christmas Eve since I was a little girl (he loves them too, FYI), and they are by far my favorite holiday indulgence.  The recipe is super simple, and one big perk of these cookies is they're best after sitting for a day or two (the filling kind of melds into the cookie instead of squishing out the sides….OMG I'm starting to drool), so you can easily make them before family and friends start arriving at your door.
Are you ready to sink your teeth into that baby or what?!  I am.  In fact, I better sign off and go find some chocolate.
Look forward to sharing more — and hearing some of YOUR — holiday traditions and recipes throughout this season!
I created this post as part of Frigidaire's Talk Turkey Campaign.  Share your own recipes and tips at Frigidaire's Make Time for Change site.  For every recipe or tip that's shared, Frigidaire will donate $1 to Save The Children's U.S. Programs, which creates lasting change for children in need.
**Kari Lauritzen is my friend and fellow personal chef in Los Angeles.  She introduced me to the idea of making fondue inside a pumpkin – such a wonderful discovery!**