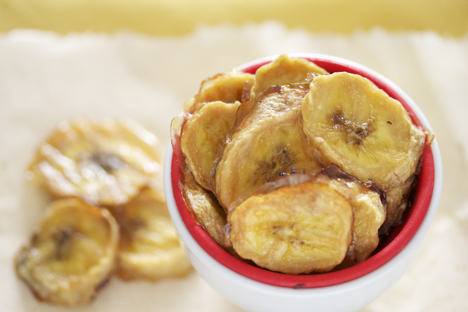 This is a guest post from Jennifer Vagios, founder of the food & nutrition blog A Girl and Her Carrot.  Jen's a registered dietitian with a Master's degree in Applied Physiology and Nutrition — but don't let her credentials fool you — she LOVES food of all kinds, both "healthy" and not!  I'm excited to have her guest blog here, because her food philosophy is a perfect fit for Eating Made Easy.  Visit her blog for more fantastic recipes (and food photos that will make you drool).

First of all, I was nothing less then delighted to be invited as a guest blogger for Amelia!
Second, let's talk BANANAS!
I know, they can be monotonous. Peel it, eat it, done. However, on a positive note they're simple, portable, not to bold on flavor and versatile. Oh, and they hold up really well in your purse (man purse, butt pack, etc.).
Now, creativity beyond the "peel and eat" can be a challenge. My immediate thoughts sent straight to making a smoothie, or into a pan all sauteed up caramelized and served over oats.
Hungry yet?
Today I decided I wanted some crunch without the oil laden frying process. Why not make a chip? I attempted it recently only to have some smashed, burned bananas stuck to my cookie sheet.Whoops! If at first you don't make a stunner of a chip, try try again. I did, and it was worth it. I can tell you that my homemade banana chips were a bit soft and chewy (which I enjoyed) because I pulled them out after 4 hours, but if left to cook for the duration, they will be crisp.
Here's the nearly effortless snack for both adults and kiddies…
Homemade Banana Chips
Ingredients
2 bananas, ripe (the riper, the sweeter)
Juice of 1 lemon
Olive Oil (just a small amount for greasing the parchment paper)
Instructions
Preheat Oven to 210 degrees F. Slice bananas into ¼ thick pieces.
Dunk banana slices in lemon juice to coat nicely. Yes, you will make a bit of a mess, but playing with your food is half the fun.
Brush a light coat of olive oil on the parchment paper and line the banana slices up.
Bake for approximately 6-8 hours, this is referred to as "dehydrating your bananas."
Remove from oven and serve as is or check out my clever ideas below!
Notes
Dip baked chips halfway in dark chocolate (75 percent cacao) for a decadent treat.
Toss them in some yogurt, cereal, or oatmeal.
Create your own trail mix and add nuts, dried mango (my new fav is trader Joes cayenne pepper mango slices), and dark chocolate pieces. Yum!
Coat with Chia seeds for a crunchy nutty flavor, or pistachios!