This homemade version of Clif z Bars is made with real food ingredients you probably already have in your pantry. These taste just like the grocery store version just less sweet.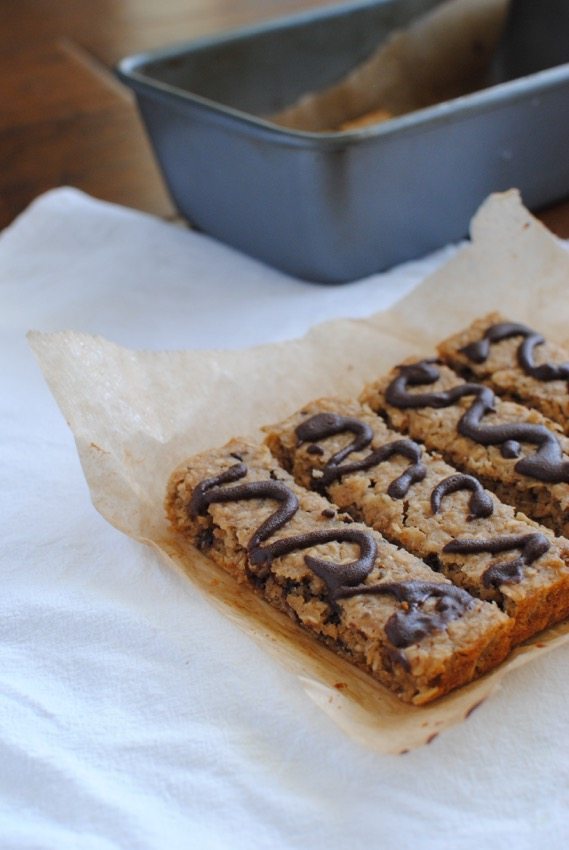 A few weeks ago I was strolling the kids to school and suddenly realized I was starving and needed a snack ASAP. So I fumbled around the stroller basket and found a chocolate chip Clif Kid Z Bar – one of Lucy's favorite packaged snacks.
Just one bite in, I couldn't believe how sweet this thing was. Definitely sweeter than any dessert I'd had recently. In fact when I got home, I ate another bite of the bar, then a bite of an oatmeal chocolate chip cookie from a batch I'd recently baked, and found that the bar was way sweeter than the cookie. And here I'd been buying these Z Bars thinking they weren't that bad, as far as packaged snacks go.
So I decided to make my own.
A quick Pinterest search led to a couple of recipes, which I tried but didn't love. But after playing around with the next few batches, I came up with a recipe that got Lucy's stamp of approval.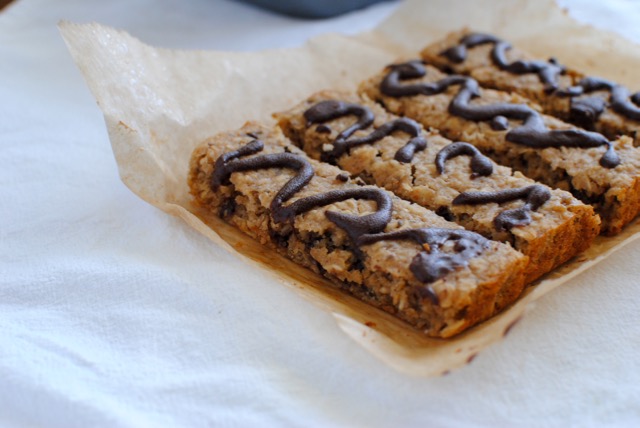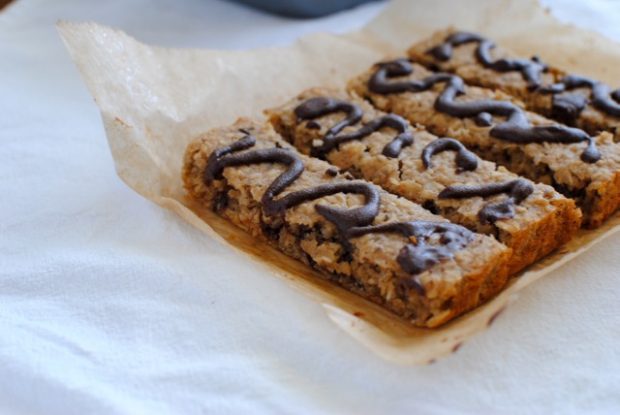 What's nice about these bars, is that they really do taste like Z Bars, just slightly less sweet. And since they're made with real ingredients, most of which you probably already have in your kitchen, you can whip them up anytime and feel good about it.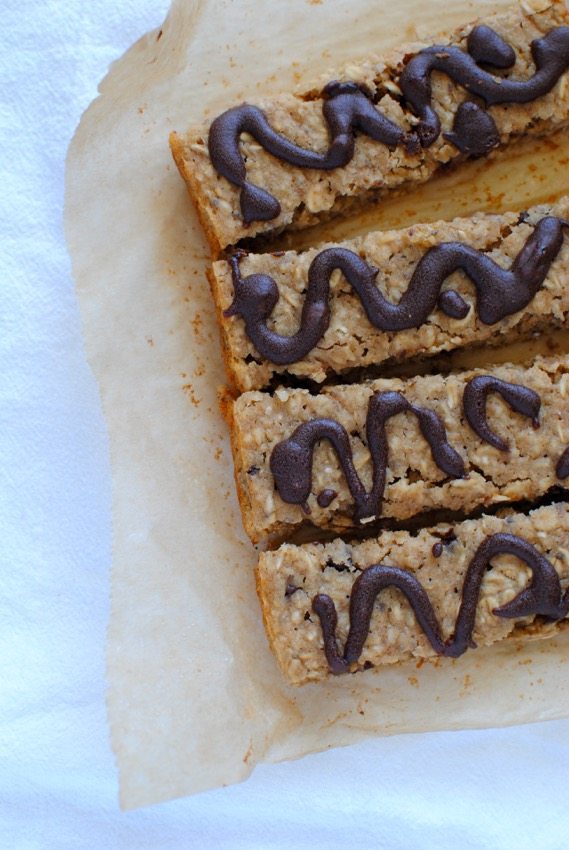 We stored these in an airtight container in the fridge for a week, and they kept beautifully. I bet you could also freeze them – individually wrapped in parchment paper or plastic wrap, then sealed in a Ziploc bag – and just take a few out as you need them.
Next on my to-do list is making the Honey Graham and Iced Oatmeal flavors. Stay tuned!

Homemade Clif Kid Z Bars
The homemade version of a kid favorite!
Ingredients
½ cup rolled oats (same as old-fashioned oats)
1¼ cup oat flour (I used Bob's Red Mill)
¼ cup vanilla plant-based protein powder (I used Bob's Red Mill) OR ¼ cup more oat flour
¼ tsp salt
1 tsp baking powder
1 tsp baking soda
½ cup applesauce or vanilla Greek yogurt
½ cup soy or almond milk (or any milk of choice)
1 tsp vanilla
½ tsp cinnamon
3 Tbsp brown sugar
1 Tbsp honey
2 tsp coconut oil, divided
½ cup mini chocolate chips, divided
Instructions
Preheat oven to 350.
Spray an 8x8 baking dish with cooking spray or rub with a little oil. Line with parchment paper so there's a little overlap on the sides which you can use to pull bars out later.
In a mixing bowl, stir together oats, oat flour, protein powder, salt, baking soda, baking powder, cinnamon and sugar.
In a separate bowl, stir together honey, applesauce, milk, vanilla and 1 tsp coconut oil.
Gently stir the wet ingredients into the dry, then fold in half the mini chocolate chips. Let batter sit for 5 minutes.
Pour batter into the baking dish and bake 25-30 minutes or until edges begin to brown and middle looks cooked through.
Cool for 15 minutes in the pan, then lift the parchment paper out to release the bars and cool on a wire rack at least 15 more minutes before cutting.
Once bars are cut, melt the remaining chocolate chips with the remaining tsp coconut oil in the microwave for 20-30 seconds. Stir until smooth.
Pour chocolate mixture into a small Ziploc bag, cut off a tiny tip, then swirl the melted chocolate over the cooled bars.
Set in the fridge for 30 minutes before enjoying.
Keep any uneaten bars in an airtight container in the fridge for up to a week.
Notes
Adapted from Mama Pea's recipe