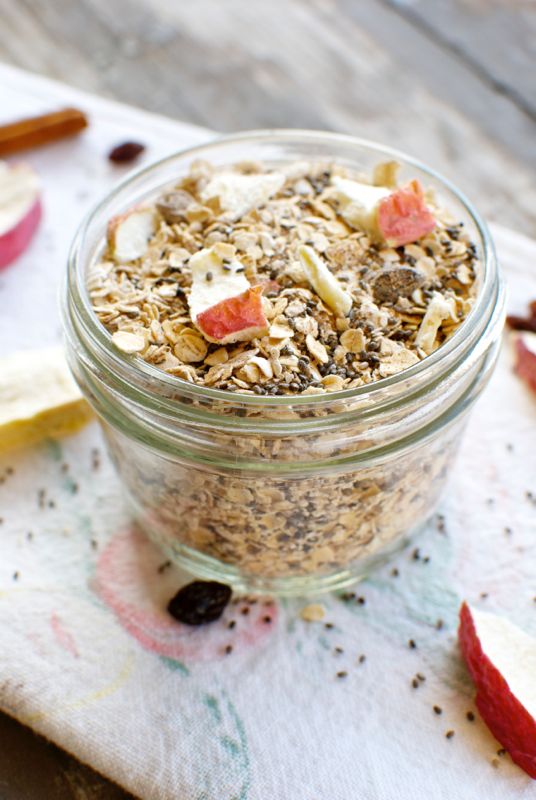 I don't really like oatmeal. But I do love the way it makes me feel: warm, satisfied, and full until lunchtime.
So to motivate myself to eat oatmeal more often, I'm constantly playing around with flavors and toppings that make it a little tastier and more exciting. Some winning combinations so far:
Bananas + peanut butter + vanilla Greek yogurt
Chocolate hazelnut spread + bananas + chopped hazelnuts
Honey roasted almonds + blueberries + coconut flakes
And the best one?
My homemade version of Instant Apple Cinnamon Oatmeal. Because who doesn't love an old-school flavored instant oatmeal packet? (sans the artificial flavors and ingredients, of course).
This Apple Cinnamon Oatmeal is not only delicious, it's also super nutritious thanks to chia and hemp seeds, which add nutty flavor and a pleasant little crunch.
We now make this on the weekends so it's ready to eat it on busy mornings, all week long.
Instant Apple Cinnamon Oatmeal
A healthier, nutrient-packed version of those little packets we all loved as kids!
Ingredients
3 cups quick oats
⅓ cup chia seeds
⅓ cup hemp seeds
¼ brown sugar
3 tsp cinnamon
½ tsp nutmeg
½ cup raisins or dried cranberries
½ cup freeze-dried apples, broken into small pieces
pinch of salt
Instructions
Combine all ingredients in a mixing bowl.
Move mixture to an airtight container.
When ready to make a bowl of oatmeal, combine ⅔ cup of the mixture with 1⅓ cup boiling water and let sit 5 minutes. Or, add 1⅓ cup cold water and microwave for about 2 minutes or until cereal is cooked.
Instant oatmeal will keep in an airtight container for one month.
Nutrition Information
Serving size:
⅔ cup dry mixture