This is so 80's, but the other day I was craving an Orange Julius–the kind I used to get at the mall when I was about 12.  I can only imagine what was in those things–gross–so I decided to make a fresher, healthier version of this fruity beverage at home.  This is the perfect drink for a warm summer afternoon.  It's lighter than a smoothie, healthier than a Popsicle, and satisfies any craving for a cool & creamy treat!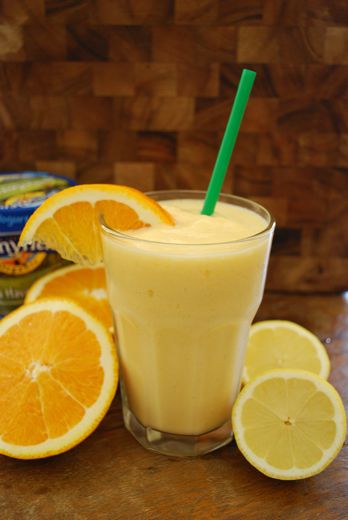 Homemade Orange Julius
Ingredients
2 large oranges, peels and core cut off (for this it's better to cut off the pith rather than peel into segments)
Juice of ½ a lemon
¾ cup water
2 Tbsp nonfat powdered milk
½ cup nonfat vanilla frozen yogurt
Plenty of ice cubes
Instructions
In a blender, pulse the oranges, lemon juice, water, and powdered milk until smooth and frothy. Add the frozen yogurt and some ice cubes and pulse. Continue adding ice cubes (you'll need a lot) until you've achieved a thick, smooth, creamy consistency. If your mixture doesn't seem creamy or frothy, add another Tbsp of powdered milk. Pour into 2 glasses and enjoy!