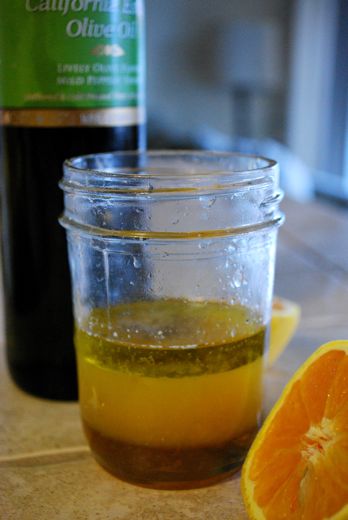 If you're the type of person who thinks salad is boring, tasteless, or a "diet" food, here's a tip that will probably change your opinion: Make your own dressing!!  Yes, homemade dressing is a little more work than store-bought, but barely.  And it can revolutionize the taste of a bowl of greens.  You can make salad dressing from really anything, as long as you follow (roughly) this basic formula:
1 part acid (any kind of vinegar, citrus, or fruit/veggie juice)
1 part oil or other fat (whole milk yogurt, sour cream, mayo, melted butter)
Salt & pepper
That's really all you need!  To make it even tastier, I suggest also adding:
Dollop of sweetener (honey, maple syrup, agave, fruit preserves, pinch of sugar)
Dollop of mustard (any kind)
And if you want to get creative or more elaborate, you can add:
Chopped fresh herbs
Pinch of dried herbs (thyme, oregano, parsley)
Minced garlic
Finely chopped onion or shallots
Salsa
Veggie or chicken broth (great way to reduce the amount of oil in a dressing)
Chopped fruit
Pureed avocado
And the list goes on…
Here are some great salad dressing "recipes" to get you started.  After awhile, you'll feel comfortable experimenting with whatever ingredients you have on hand.  Get ready to dig into your salads with enthusiasm!