Teaching kids to care about and preserve the earth – in a productive & positive way – is an important task of modern-day parents. I'm always seeking opportunities to show Lucy that resources are not unlimited, and that our daily choices can really help protect our planet.
One of the best places I've found to do this in the kitchen. When Lucy is helping me choose or prepare our food, we have all sorts of opportunities to talk about the health of our bodies and the environment. She also learns simply by what we buy, make and eat together, which is probably even more effective than any conversation we have.
On Earth Day last week, Lucy and I made our own "snack mix" using Envirokiz cereal, nuts, dried fruit, Annie's graham bunnies, coconut flakes and plantain chips.
The snack mixes were intended for Lucy, but are so irresistible that Tyler and I have eaten more than we'd like to admit 🙂
Though the Envirokidz cereals have a little more sugar per serving than I normally recommend, they make the perfect sweet addition to any homemade snack or trail mix. Plus, they are organic (good for the planet) and 1% of all their profits helps to save endangered wildlife and habitats through the Jane Goodall Institute and Fauna & Flora International.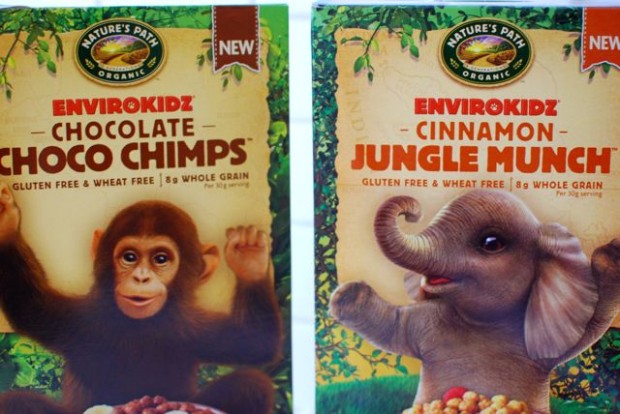 Lucy loved participating in this simple project, and I loved talking with her about the animals on the boxes and how these organizations are helping them.
GIVEAWAY ENDED
Win a Month's Supply of Envirokidz products!
Nature's Path has kindly offered one lucky reader a month's supply of Envirokids products, in honor of Earth Month.
To enter, simply leave a comment about how you teach your kids to protect our planet OR any planet-preserving habit you yourself practice. Winner will receive a package of the following Envirokidz products:
1 box Jungle Munch
1 box Choco Chimps
1 box Gorilla Munch
1 box Koala Crisp cereal
1 box Koala Crispy rice bars
1 box Cheetah Berry rice bars
Winner will be randomly selected on Thursday evening, May 1st. Good luck!