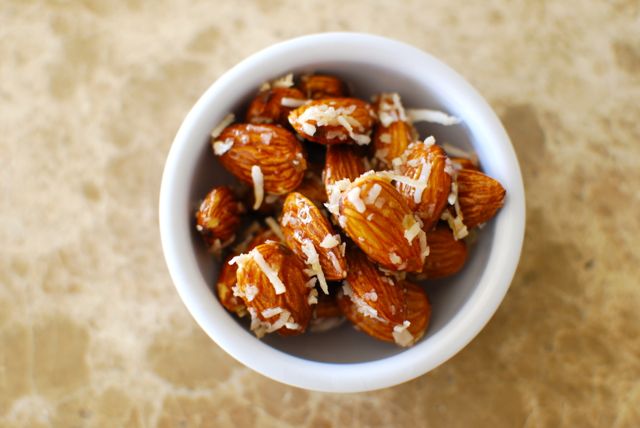 Nuts are a great source of heart-healthy fat, fiber, and protein. Eating a serving (about 1/4 cup) of nuts everyday, especially if you're eating them in place of an animal-based food like meat or cheese, is a habit we could all stand to practice. Plus, nuts happen to be delicious!
Coconut Honey Roasted Almonds are my latest nut obsession. Here's how to make them.
Coconut Honey Roasted Almonds
Ingredients
3 cups raw almonds
¼ cup honey
¼ cup shredded coconut
1 tsp oil
¼ tsp salt
Instructions
Place almonds in a mixing bowl. Add honey, oil, and salt and mix until all the nuts are well-coated.
Spread out onto a parchment-lined baking sheet and bake at 350 for about 15 minutes.
Remove from oven and stir in coconut shreds.
Let cool, then store in an air-tight container.
Note: as with all nuts, be sure to monitor your portion size. The calories add up quick! Aim for 1/4 cup, or about 20 almonds so you don't overdo it on the calories.