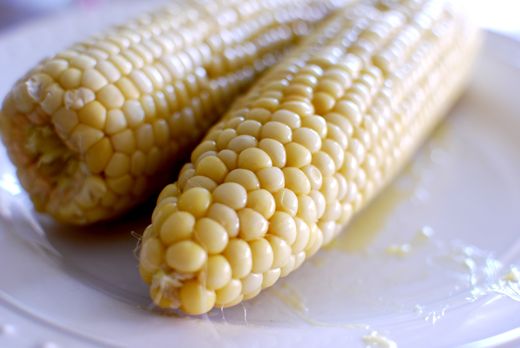 Who doesn't love corn on the cob?  Grilled, roasted, steamed, or boiled, fresh corn is a true summer treat.  Especially when you roll it in toppings like cinnamon honey butter, chili lime sauce, or fresh herb and Parmesan rub.  Mmmm!
Here are the easiest ways to make great corn on the cob:
Steam it.  Place a steamer basket in a large pot with an inch or two of water at the bottom.  When the water boils, add the corn and steam it for 5-7 minutes, then remove it from the pot.
Roast it.  Preheat oven to 425.  Cover a baking sheet with foil or parchment, rub a little oil on the corn cobs, then bake for 15-20 minutes or until kernels are slightly browned in some places.
Boil it.  Place corn cobs in boiling water for about 5 minutes.  Remove from water right away so corn doesn't get mushy.
Grill it (in husks).  Rub the outside of corn husks with oil, then place on the grill over medium-low heat.  Grill, turning every few minutes, for about 15 minutes.  Let cool before peeling back the husks, as the steam can burn you.
Grill it (without husks).  Remove husks and rub corn cobs with oil.  Place directly on grill over medium-low heat and grill for 5-10 minutes, turning corn frequently so kernels don't burn.
Microwave it.  Wrap corn in damp paper towels and microwave for 4-6 minutes, depending on the strength of your microwave.  Let cool for a minute before handling or unwrapping the towel.
When cooked, roll corn in one of the sauces above or simply in butter with a sprinkle of salt.  Or, cut kernels off the cob and add to pasta, enchiladas, or salad.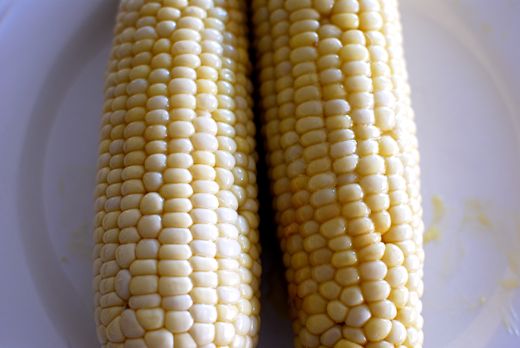 When the corn's been eaten, use the cobs to make super easy corn stock.  You can use it now for summer corn chowder, or freeze it and make warm, hearty soups when winter rolls around.