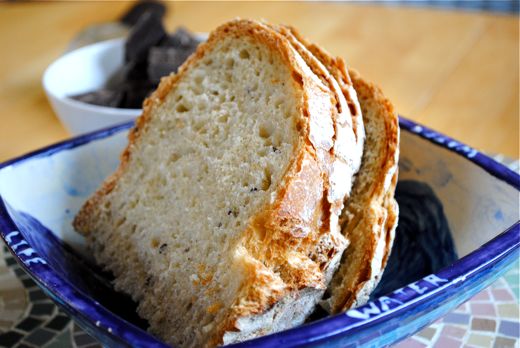 At first glance, eliminating bread, chocolate, sugar, white carbs, or other sources of "empty" calories seems like a great way to lose weight.  And in theory, it is.  But in reality, elimination diets (where certain foods or food groups are not allowed) just don't last.
Why?
Because they go against social norms, often remove the pleasure aspect of eating, and take huge amounts of effort to maintain.  Significantly easier and more pleasurable are diets that include a wide variety of foods (mostly healthy ones) and allow you to practice culturally normal eating habits.
Should we all be tweaking our diets here and there to reduce sources of empty calories?  Yes.
Should we all completely give up the foods we love in an attempt to lose weight or even improve overall health?  If you ask me, no way.  Because the odds that such a plan will stand the test of time are very, very low.
So tonight, and probably tomorrow night too, I'm going to do like the French do and enjoy a slice of warm homemade bread with butter and a little hunk of chocolate.  And then eat some vegetables.