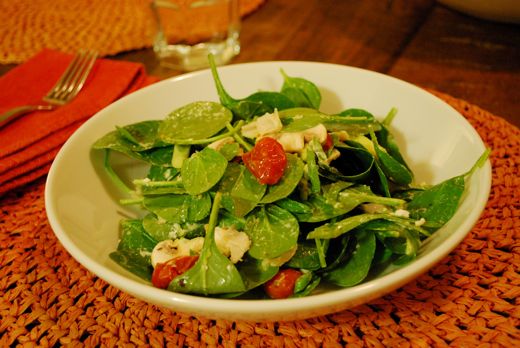 This time of year, I make salad for dinner whenever we are not at a holiday meal or party.  It helps to balance out the heavy food, baked goods, candy, etc. that we inevitably eat when we're not at home in our routine.  And also, winter salads taste really good!
A few tricks for delicious salads during winter:
Use heartier greens like spinach, kale, cabbage, or lettuces in your market that look good
Add roasted vegetables – since not many traditional salad veggies are in season, roasted veggies add flavor and excitement.  Try roasted cauliflower, broccoli, baby tomatoes, green beans, sweet potatoes, or halved Brussels sprouts.
Add winter fruits like apples, pears, orange or tangerine segments, and grapes.
Choose a creamy cheese like feta or goat – when tossed with everything these almost become part of the dressing and make the salad more flavorful
Sprinkle on some grains – wild rice, quinoa, couscous, or any other interesting grain will add texture and flavor plus make the salad a little heartier.  Canned beans also work well, as these never go out of "season."
Last night, I made the salad pictured above.  Baby spinach, turkey, olives, goat cheese, roasted grape tomatoes, green onions, and sliced white mushrooms.  To Tyler's salad, I added homemade croutons…
(Note: It's not that I didn't want croutons…I just ate all my croutons before they ever made it onto my salad…good example of why cooking when you're starving is not ideal! )
Normally, I make one of these easy homemade dressings, but last night I was too lazy so I just drizzled on some olive oil and champagne vinegar.  I thought this would be boring but it was actually really good.
Another salad I've been really into lately is this one:
Arugula, apples, walnuts, green onions, dried cranberries, and roasted cauliflower.  I never thought cooked cauliflower would go with fruit or any sweet taste, but it goes quite nicely.
Moral of the story: don't be afraid to make salad in the winter.  It just takes a few ingredients that are outside the lettuce-tomato-cucumber box to make it great!