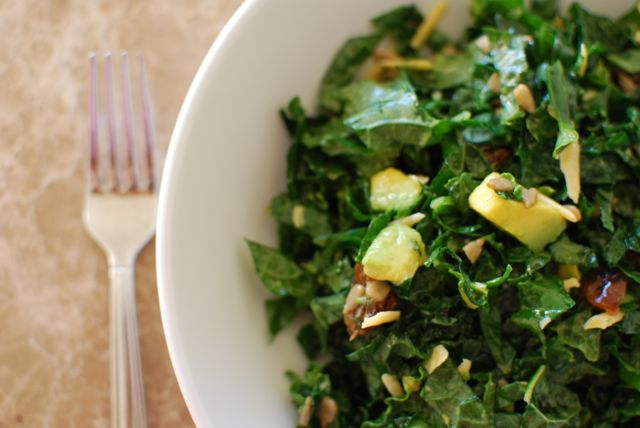 Kale salad. It can either be fabulous and flavorful or darn hard to chew…and even harder to swallow.
Here's how to make a killer kale salad:
Use an acid-based dressing. Citrus (lemon, lime, orange) or vinegar are the keys to breaking down the leaves so they are soft enough to eat. Here are some homemade dressing ideas. If using a store-bought dressing, add a little extra vinegar or lemon juice.
De-stem. Kale stems are ok when cooked, but they're too tough to eat raw. Remove the stems with a knife or just by tearing the leaves off.
Marinate. Kale is a sturdy green and needs to spend some time in the dressing before it's ready to eat. Toss the chopped kale with dressing then let it sit for 10-15 minutes (tossing every few minutes) before adding other ingredients and serving.
Chop it up. Huge pieces are awkward in any salad, but this is especially true for kale since it's a hardier green. Chop your kale leaves really well for easier eating.
Add sweetness, salt and crunch. Sweetness can be  honey, maple syrup or agave in the dressing and/or from fruit & dried fruit tossed into the salad. Salt can be a sprinkle in the dressing plus salty nuts or crumbled cheese. Crunch can come from crisp veggies like celery or carrots and/or from nuts or croutons.
You can use any kind of kale in a salad, but my favorite kind to eat raw is black/Dinosaur kale. And remember to buy organic if possible, since kale is on The Dirty Dozen list meaning it can be highly contaminated with pesticides.
This has been one of my favorite kale salads lately. You can alter the recipe in any way, but the sweet & chewy dates are a must!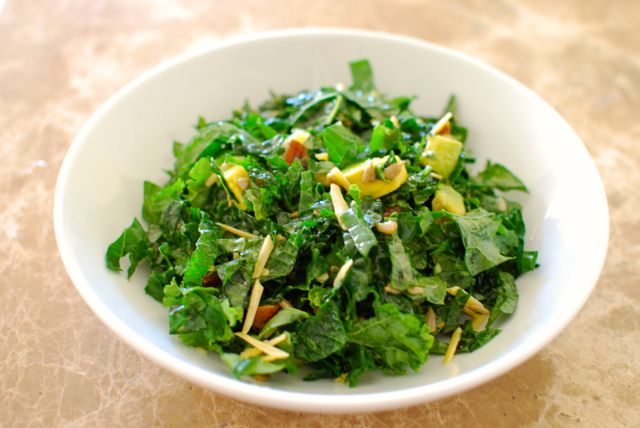 Enjoy!
Kale Salad with Avocado and Dates
Ingredients
Juice of 1 lemon
2 Tbsp honey
3 Tbsp extra virgin olive oil
½ tsp kosher salt
1 large bunch black kale, stems removed and leaves chopped
2 stalks celery, thinly sliced
1 avocado, cut into small chunks
8 dates, pitted and chopped
2 Tbsp grated Parmesan or Romano cheese
2 Tbsp sunflower seeds
Instructions
In a large salad bowl, whisk together the lemon juice, honey, olive oil and salt. Add a pinch of ground black pepper if desired.
Toss the kale leaves with the dressing and let sit 5 minutes, then toss again. Repeat 2-3 times until kale has absorbed some of the dressing.
Add remaining ingredients, toss and serve.
Salad will keep in the fridge for 1-2 days.
Nutrition Information
Serving size:
2-4 servings