A hearty, healthy and flavorful Italian noodle soup that you'll make again and again.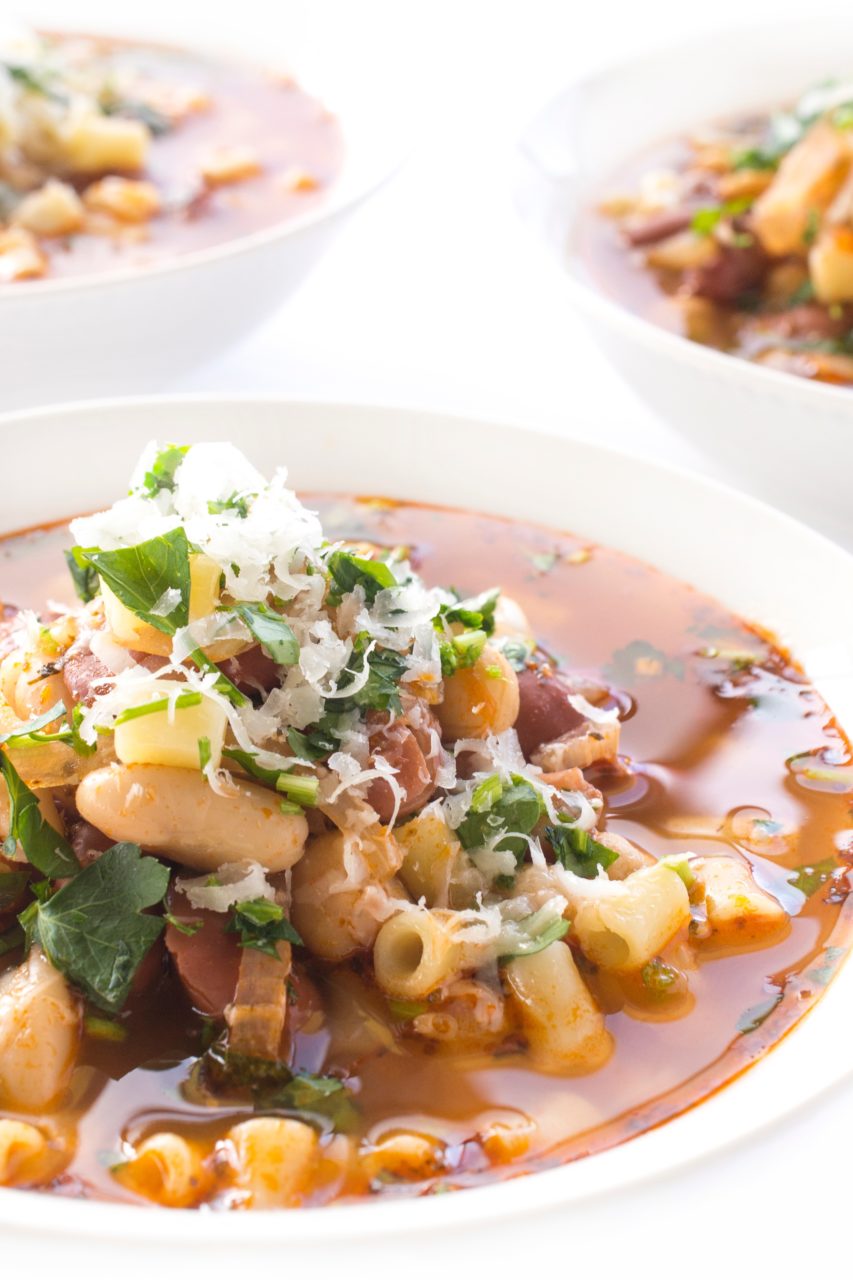 Food serves many purposes. It fuels us physically. It fills our souls. It serves as a universal language. It provides opportunities to connect and celebrate with family and friends.
No one of these purposes is more important than another, in my opinion. They all work in harmony to enrich and satisfy our physical and emotional selves. (Which is actually why I'm so opposed to "dieting." Restricting ourselves to certain foods in certain settings may encourage weight loss, but it also causes us to miss out on the joy that food can bring, which has an impact on overall health, too).
My good friend Liz of The Lemon Bowl has recently captured the concept of food as a means of connection in her new e-book Food From Our Ancestors: The Ultimate Sunday Italian Dinner. In this delightful collection of recipes, Liz shares 12 traditional yet simple dishes that help define her husband's family kitchen. These are the meals they've been making together over stories, laughter and wine (I'm guessing) for generations, and I'm so glad to be sharing one of these family recipes with you in this post.
I didn't grow up with a rich family food history. My parents aren't into cooking and food just wasn't a big part of our family life when I was growing up. But since it's a big part of my life as an adult, I'm now building the food and recipe traditions that I hope my children will carry on to future generations.
Since soup is a big time staple at our house, and one of the few ways my kids will eat just about any ingredient, I'm thrilled to be sharing Liz's Pasta e Fagiole (pasta and bean soup) with you here. We've already made this twice, and loved not only the taste but the ease of making it.
For more fabulous Italian family recipes, be sure to check out Liz's e-book. 🙂

Pasta e Fagiole
A budget-friendly meal that "sticks to your ribs," this soup is great for warming you up or soothing a cold during wintertime.
Ingredients
¼ cup olive oil
1 small onion, thinly sliced
2 cloves garlic, minced
2 Tbsp Italian seasoning
1 small can tomato paste
12 cups water or broth, or combination of both
15 oz can red beans, drained and rinsed
15 oz can white beans, drained and rinsed
15 oz can garbanzo beans, drained and rinsed
Salt & pepper to taste
½ lb ditalini or elbow noodles, cooked according to package directions
Grated Parmesan cheese, chopped parsley, and crusty bread for serving
Instructions
Heat oil over medium heat in a large heavy-bottomed pot; sauté onion, garlic and spices until just tender, about 4-5 minutes.
Add tomato paste and stir well. Reduce heat to low and cook 3-4 minutes, stirring occasionally.
Add the water/broth and beans to the pot and bring to a boil. Reduce heat to low and simmer for 20 minutes.
Stir in pasta just before serving. Sprinkle with Parmesan cheese and serve with crusty bread for dunking.
*Photo credit: Alejandro Photography / *Recipe Credit: Liz Della Croce