My senior year in college I lived in this cute little beach apartment with my two best friends. Most evenings, you could find us riding our beach cruisers to happy hour for margaritas and $1 tacos.
But once or twice a week, we'd make dinner together. My dinner contribution was almost always this salad, which I called "Italy Meets Greece" because it had some of my favorite flavors from both regions.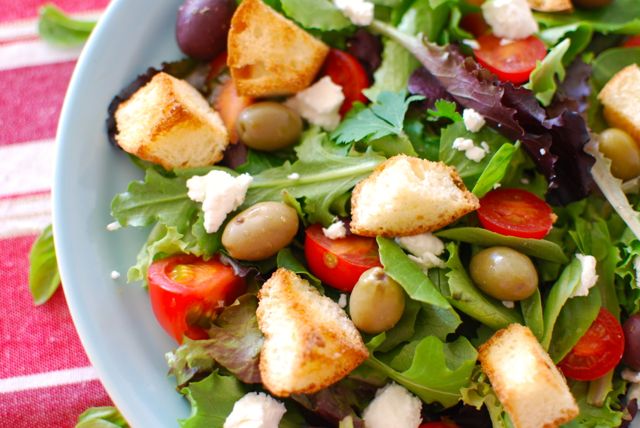 Alas, my happy-hour-dinner nights are long gone (apart from the occasional night out), but this salad continues to live on as one of my favorites. I make it the exact same way I did 12 years ago: with tomatoes, olives, feta, fresh basil, homemade croutons and balsamic vinaigrette.
It just wouldn't be salad month if I didn't share this with you 🙂
Enjoy!
Italy Meets Greece Salad
Serves:
2 main dish servings; 3-4 side servings
Ingredients
1 5-oz bag Earthbound Fresh Herb Blend, or other spring mix
½ pint cherry tomatoes, halved
¼ cup Kalamata or other Greek olives
¼ cup feta cheese, crumbled (look for Sheep's milk feta, it's the best!)
2 Tbsp torn fresh basil leaves
1 cup homemade croutons
2 Tbsp sliced red onion (optional)
balsamic vinaigrette
Instructions
Place greens in a salad bowl or on a large platter.
Layer on remaining ingredients, then drizzle with balsamic dressing and toss.
Serve right away.
Notes
I like using Earthbound's Herb Blend for this salad because of the additional fresh herb taste, but any organic spring mix is fine if you just want to stick with the fresh basil.
Balsamic Vinaigrette
My staple balsamic dressing. Make a double batch so you have extra for future salads!
Serves:
about ¾ cup dressing
Ingredients
¼ cup balsamic vinegar
¼ cup apple cider or sherry vinegar
2 Tbsp honey
2 tsp Dijon mustard
⅓ cup extra virgin olive oil
pinch each salt & pepper
Instructions
Whisk all ingredients, except oil, in a medium bowl.
Slowly whisk in olive oil until dressing is emulsified (well-blended).
Store any remaining dressing in the fridge for up to 2 weeks.