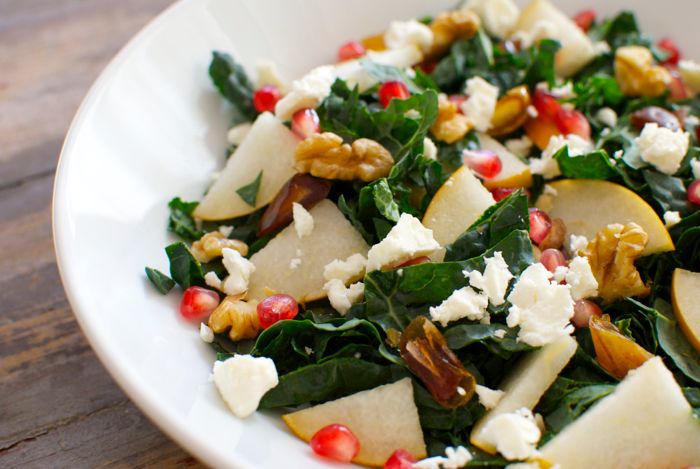 If it weren't so much work to wash, de-stem and chop kale leaves, I'd make kale salads with every meal. They're just so delicious!
Every season I experiment with different kale salad combinations, and although I love them all, I think this latest one – which has Asian pear, pomegranate seeds, walnuts, dates and feta cheese – is my new favorite.
If you're still mourning the loss of summer produce, make this salad. You'll quickly remember how many delicious fruits and veggies appear during fall and winter, and that you can still enjoy colorful, flavorful salads during these chilly months.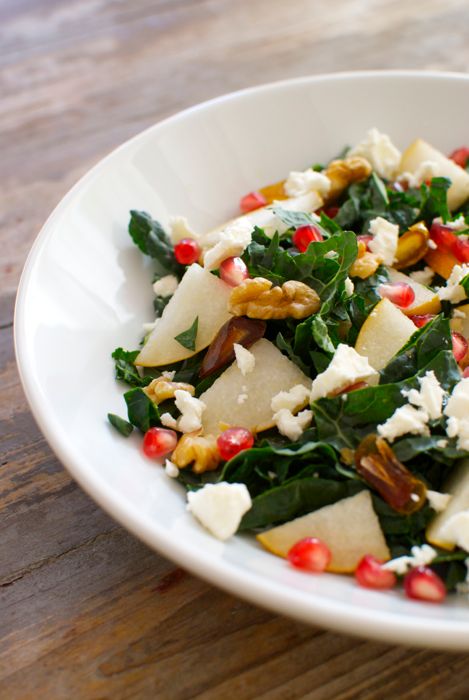 I think this salad tastes best with lemon vinaigrette, but it would also go well with balsamic or any other vinaigrette you love. It would also make a perfect Thanksgiving side dish!
Kale Salad with Asian Pear and Pomegranate
Kale salad with all the best flavors of fall!
Serves:
4 medium-sized servings
Ingredients
2 bunches black kale, washed and de-stemmed
1 large Asian pear, sliced into small pieces
¼ cup chopped pitted dates
½ cup pomegranate seeds
¼ cup walnut pieces
3 oz feta cheese, crumbled
For the dressing:
Juice of 1 lemon
2 Tbsp honey
2 tsp Dijon mustard
¼ cup olive oil
¼ tsp salt
Instructions
Whisk the dressing ingredients in the bottom of a big salad bowl.
Chop the kale leaves into small pieces or strips, then add to the salad bowl and toss with the dressing.
Allow kale to "marinate" in the dressing for about 5 minutes, then toss again and top it with the remaining ingredients.
Toss salad to combine, then serve.