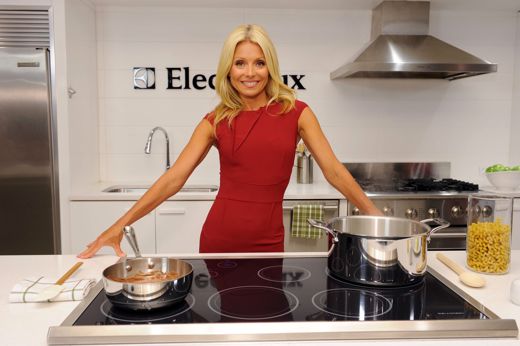 OK.  I just can't hold it in any longer….
HERE'S MY INTERVIEW WITH KELLY RIPA!!!!!!!!
and…..
HERE'S YOUR CHANCE TO WIN AN ELECTROLUX INDUCTION COOKTOP!!!!!!

A few weeks ago I had a lovely phone conversation with one of America's favorite women – who by the way, is just as warm, friendly, and approachable as she seems – about comfort food and how it fits into a busy, modern lifestyle.  Like many of us, Kelly is incredibly busy, but with the help of Electrolux she still finds time to cook and eat with her family every single night.  Pretty cool.
Kelly and Electrolux just launched a new Comfort Food Made Easy campaign, which features the ridiculously fast Electrolux Induction Cooktop (boils water in 90 seconds!) and benefits the Ovarian Cancer Research Fund (OCRF).  During the campaign, food lovers everywhere can share and vote for their favorite comfort foods on Kelly-Confidential.com.  Every time you share or vote for a recipe on Kelly Confidential, Electrolux will donate $1 to OCRF, and you'll be entered to win a FREE ELECTROLUX INDUCTION COOKTOP!!!!!
Head over to the site to start drooling over comfort foods (mac 'n cheese, anyone?) and for your chance to win!
Now, here's my interview with the extraordinary Kelly!
Amelia: We all love comfort foods. What are your own favorites?
Kelly: When I think of fall, I think about comfort food – and that usually means my mashed potatoes.  This is really the one thing that I never skimp on.  I'm talking real butter, cream, salt, all the real stuff, and I just can't get enough of it.  I don't eat these very often, but for big family meals and holidays, these are my go-to.  They remind me of my childhood, of Thanksgiving, and of spending time with family.  This dish really brings me back.
Amelia:  Many comfort foods involve long, slow cooking processes, which are fun on occasion, but not always practical.  Do you have any tips for cutting some of the work out?
Kelly:  There's a great recipe that I got from Nigella Lawson's show – it's kind of a take on Fettuccine Alfredo.  I do make some changes to her recipe – I use milk instead of cream, a light cheese instead of the many cheeses she puts in, but it's an easy meal.  You just boil pasta, then use some of the pasta water, a little butter, and warm milk with your cheese to make a sauce.  You throw the pasta in with some fresh or frozen peas, and you've got a creamy pasta with peas.  It's a family favorite for us – my kids and I love it.  It tastes fresh and creamy, kind of like a restaurant meal, but easier and healthier.
Amelia: Mmmm, your description of that is making me hungry.  We're definitely into simple, easy meals on Eating Made Easy, so I'm going to give that recipe a try…though I may be tempted to add more veggies!

Kelly: Oh you could totally add more veggies — I bet spinach would be delicious.  And it's so true, cooking doesn't have to be so laborious – it's just a fun way to bring family together.  That's why I love what Electrolux is doing with their comfort food campaign.  Anyone can go to Kelly-Confidential.com and put their favorite comfort food recipes online, then people will vote for their favorites.  It's fun and community-building, and it raises money for the OCRF, all at the same time.  Such a great opportunity, and for a good cause.
Amelia:  So Kelly, it's clear you're a health-conscious person.  How does comfort food fit into your healthy lifestyle?  Do you pay attention to portion sizes, balance what you eat with working out, make healthier versions of your favorite comfort foods…or a mixture of all of these?
Kelly: What I do is I exercise everyday.  Exercise is a great thing for your body and for your health, but it does make you hungrier.  So I do eat a lot – I just primarily focus on lighter foods like lots of leafy greens and salads.  I really try to limit simple carbs and high fat foods.  I save those for special occasions — family meals where everyone comes over for a visit, or holidays.  On most nights, we eat lots of veggies plus chicken or fish – very rarely red meat.  I will treat myself once in awhile with the richer foods that I love so much, just not all the time.
Amelia:  Luckily, leafy greens and light foods can be really good too.
Kelly:  It's true!  I especially love kale and salads.
Amelia: When you're a working mom with a long to-do list, it's hard to find time to sit down to family meals.  Do you have any tips for busy moms who want to make family mealtime a priority?
Kelly: I learned a lot about working, balancing my schedule, and fitting in family meals from my mother-in-law.  She taught me how to make large quantities of food to keep in the fridge for the week or dishes that can be easily frozen.  My family always sits down for dinner together – every single night.  Sometimes it's late because of soccer practice or hip hop dance class, but we make sure to eat as a family every night.  I think it's important time to spend together, and it helps establish good eating habits.  Family meals don't have to be big and complicated.  You can throw together a salad or sauté up some veggies really quickly.  Healthy food that doesn't take very long to make can be comforting too!
Amelia: Thanks, Kelly!
Kelly: Anytime, Amelia.

See?  It's true – she's just as friendly and down-to-earth as you think she is!
Now, on to the even MORE exciting news — you could win an Electrolux cooktop!  Be sure to stop by Kelly-Confidential.com to find recipes and share your favorites.  Not only could you win a cooktop, but you'll be helping to fight ovarian cancer.  Have fun, help out a worthy cause and be entered to win.  What could be better than that?  (Um…an interview with Kelly Ripa!)