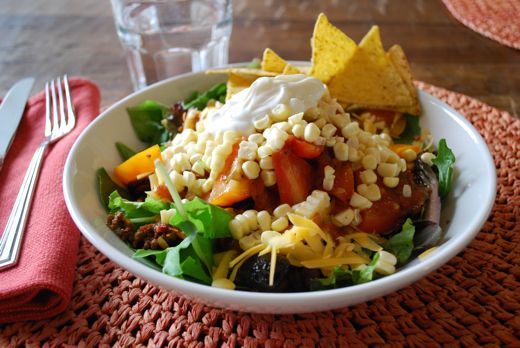 If you BBQ'd for Labor Day, you may have some extra cooked burger patties with fixins' (tomatoes, lettuce, onion, etc)…and perhaps some leftover chips and salsa.  Here's an easy way to turn yesterday's leftovers into tonight's healthy dinner.  Simply pile lettuce or other greens into a bowl, add the meat, and top with whatever Mexican-ish toppings you have in your fridge.  Of course it's sad that the last holiday weekend of the summer is now over…but at least you can enjoy it's food one more time!
Healthy Taco Salad
Ingredients
¾ pound Lean Ground Beef, or 2 large cooked burgers
1 pinch Ground Cumin
¼ cup "Onion, any color", sliced or chopped
1 pinch Kosher salt
¼ cup Fresh salsa
10 dashes Hot sauce, any kind
1 cup Black Beans, rinsed and drained
2 cups Tomatoes, chopped
6 cups Romaine Lettuce , chopped
2 cups Fresh Corn Kernels, cut off of cob (or use frozen)
¼ cup Plain Nonfat Greek Yogurt
½ cup Sharp Cheddar Cheese, shredded or cubed
4 large Lime wedges
1 cup Tortilla chips
Instructions
Heat a skillet over medium heat. Add 1 tsp oil and the meat. Let brown for a few minutes, then stir with a wooden spoon and let cook until meat is browned and no longer pink. (If using pre-cooked burgers, break them up with your fingers and cook just long enough to reheat). Add salt, cumin, hot sauce, onions, and salsa and cook another 2 min. Remove from heat.
Pile lettuce into 4 bowls. Top with the ground meat, cheese, and veggies (these are just suggested veggies - use any veggie you like or have on hand). Add a dollop of plain Greek yogurt, some spoonfuls of salsa, and a generous squeeze of lime. Serve with tortilla chips on the side.