These are my go-to cupcakes for special occasions that call for cake! These lemon cupcakes are fresh, light and airy and I've topped them with an equally delicious cream cheese frosting.
I've always loved food, but until about 13 years ago, I spent more time stressing about food than I did actually enjoying it.
Throughout my teens and early twenties, I was constantly thinking about what I should eat, had eaten, or was going to eat later.  Like many women, I tried all sorts of diets and self-imposed eating restrictions in an attempt to achieve and maintain what I deemed an acceptable weight for my 5'9″ frame.
When I began studying nutrition and working as a personal chef, the amount of time I spent thinking about food was at an all-time high. I would study, cook and serve food all day long, then lie in bed at night dwelling on the "bad" food I'd eaten or the "good" food I planned to eat the following day. It was exhausting.
So one day, I decided to stop. No more obsessing. No more compulsive planning. No more beating myself up over food.
Instead, I committed to eating the things that make me feel good, emotionally and physically.
And you know what happened? I fairly quickly arrived at a healthy weight – and more importantly a healthy relationship with food – that I've been able to maintain ever since. Without trying very hard.
Yes, I still follow some specific strategies that help. But mostly, I just notice how much more I enjoy healthy food, social eating situations, and the extra mental space I previously devoted to worrying about this huge category of life.
As it turns out, my blogging friend Andie Mitchell has a similar story. Her first book It was Me All Along tells this story in the most authentic and relatable way (I highly recommend this book if you've ever struggled with weight). And her new cookbook, Eating In the Middle, gives people like you and me the real, mostly wholesome recipes she relies on to maintain her 135-lb weight loss.
When Andie reached out to me asking if I'd share a recipe with you from Eating in the Middle, my answer was an astounding Yes! I seriously could not love this book – or Andie's food philosophy – even an ounce more.
Since Andie and I both believe in true moderation and occasional indulgence in the treats you love – without guilt or regret – I decided to share with you one of her luscious dessert recipes : Lemon Poppy Seed Cupcakes with Vanilla Cream Cheese Frosting.
These, quite frankly, are to die for.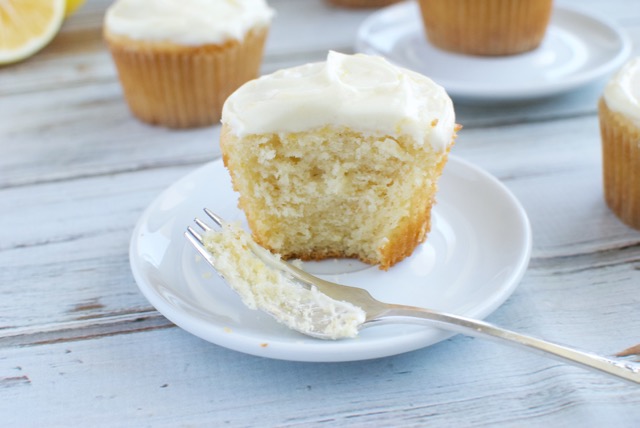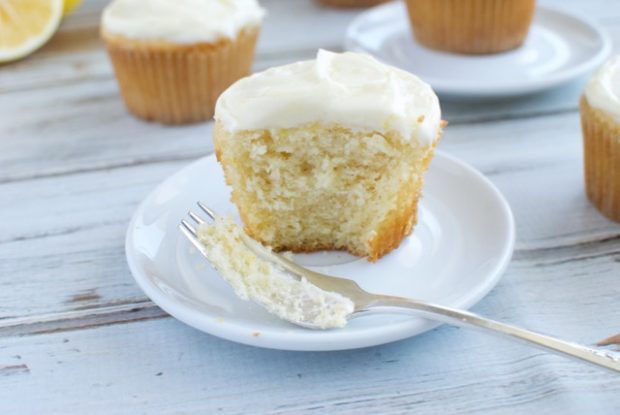 In typical fashion, I didn't follow the recipe exactly. I had no poppy seeds or vanilla beans, and had a huge basket full of Meyer lemons from my retreat last weekend at Terranea – so my cupcakes look a little different. But they were still fabulous, and I've since stocked up on the missing ingredients so I can make them again this weekend – since this batch has already disappeared!
Thank you, Andie, for this fantastic recipe, and for your sincere and honest words about an experience so many of us struggle with.

Lemon Poppy Seed Cupcakes
From Andie Mitchell's cookbook: Eating in the Middle.
Ingredients
For the cupcakes:
1½ cups all-purpose flour
1¾ tsp baking powder
1 tsp salt
10 Tbsp unsalted butter, at room temperature
1 cup sugar
2 large eggs
½ cup sour cream
¼ cup fresh lemon juice
2 Tbsp grated lemon zest (about 1 lemon)
1 tsp pure vanilla extract
2 Tbsp poppy seeds
For the frosting:
6 oz cream cheese, at room temperature
4 Tbsp unsalted butter
2 vanilla beans
1½ cups confectioners' (powdered) sugar
1 Tbsp whole milk
Instructions
Preheat the oven to 350. Line a cupcake tin with paper liners.
In a medium bowl, whisk together the flour, baking powder and salt.
In the bowl of a stand mixer fitted with the paddle attachment, beat the butter and sugar at medium-high speed until fluffy, about 3 min. Add the eggs and beat until incorporated. Add the sour cream, lemon juice, lemon zest, vanilla and poppy seeds.
With the mixer on low, gradually add the flour mixture, beating until just combined. Be careful not to vermin. The batter will be thick. Spoon it evenly into the prepared tin.
Bake until a toothpick inserted into the center of a cupcake comes out clean or with a few moist crumbs attached, 16-20 minutes. Let the cupcakes cool for 2 min in the cupcake tin, then carefully turn them out of the tin and let cool completely on a wire rack before frosting.
To make the frosting - put the cream cheese and butter in the bowl of a stand mixer fitted with the whisk attachment. Using a paring knife, halve the vanilla beans lengthwise and scrape the seeds into the bowl. Beat on medium speed until the cream cheese and butter are combined and creamy and the vanilla beans are mixed throughout. Gradually add the powdered sugar, 1 cup at a time, and beat on medium-high speed until incorporated. Scrape down side of the bowl, increase the mixer speed to high, and beat until completely smooth, about 2 minutes. Add the milk and beat for 1 min more.
Frost the cupcakes when completely cool.