As I've mentioned before, my meals since Lucy's arrival are often pretty random.  Partly because I don't have much time for meal prep, and partly because I like to put together a spread that both Lucy and I can eat.  Breakfasts and lunches are now usually a collection of little nibbles – soft, easily chewable, nutritious nibbles.
Sitting down to eat the same meal is fun, not only because it's much easier for me preparation-wise, but also because Lucy likes to watch me eat, feed me occasional bits of whatever is on her placemat, and enjoys seeing that we're eating the same things.  Who knows what our family eating habits will be like in the future, but for now I love our little meals together and hope that they last.
Enjoying little bits of sweet potato, green bean, bread, hummus, oranges, apples, and cheese.
Happy mom, happy baby!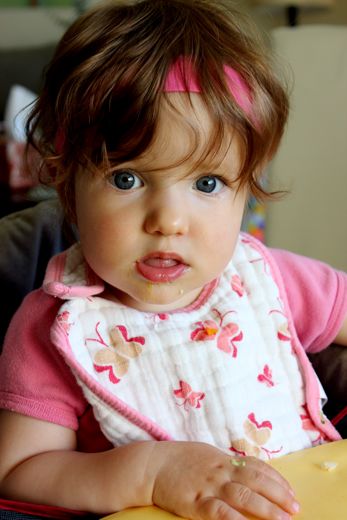 Note: No, you have not been transported back to the 80's…we're just experimenting with how to keep Lucy's long hair out of her eyes!