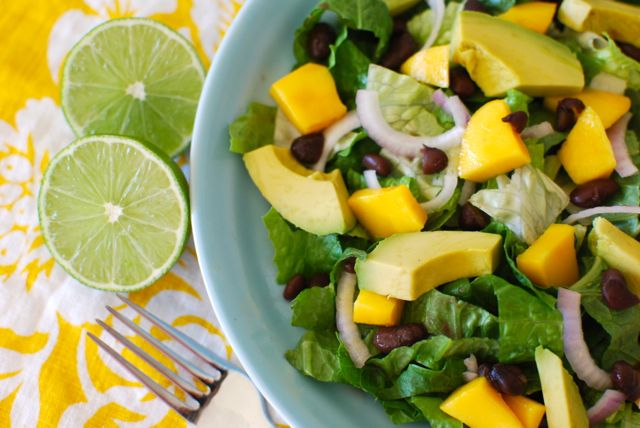 I planned to share this salad later in the month, but after making & photographing it yesterday I just couldn't wait. If you're trying to eat healthy and getting bored with whatever you've been eating, make this salad immediately!
For optimum flavor, use a ripe mango (should be pink-red with yellow-orange and slightly tender to the touch) as well as a ripe avocado (feels kind of like a baked potato when you press on it lightly).
The super simple dressing for this salad really seals the deal for me. Just mix together whole milk yogurt with salsa and a squeeze of lime, and you have a creamy, tangy, slightly spicy dressing that perfectly complements the other ingredients.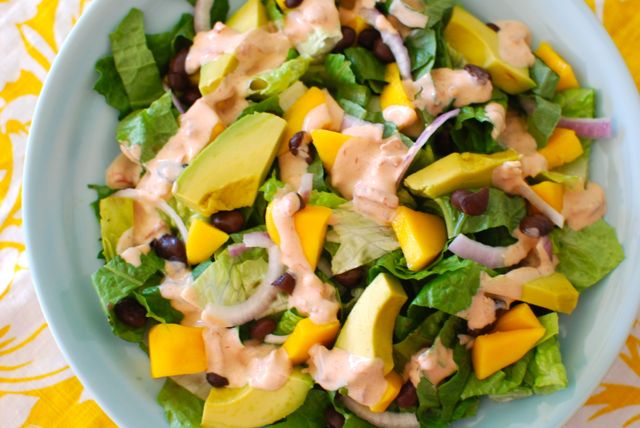 Serve with a few crunchy tortilla chips and you've got a meal!
Mango Avocado Salad with Creamy Salsa Dressing
Serves:
2 main dish servings
Ingredients
3 cups (packed) chopped Romaine lettuce
½ a large mango, peeled and cut into cubes
¾ cup black beans
2 Tbsp sliced or diced red onion
½ a large ripe avocado, cut into cubes
Cilantro leaves (optional)
For the dressing:
2 Tbsp plain whole milk yogurt (I used Greek)
3 Tbsp salsa
Juice of ½ lime
Instructions
Divide the chopped Romaine between two dinner plates or bowls.
Top the lettuce with the mango, beans, red onion, avocado and cilantro leaves (if using).
In a separate small bowl, whisk together the yogurt, salsa and lime.
Drizzle the dressing over each salad and serve.
Notes
Optional additions: crumbled tortilla chips, chicken breast, tofu cubes or shredded cheddar cheese.
On another note, if you're trying to eat healthy/lose weight and want to see how real people have lost & kept it off for good, join me & some other healthy living bloggers for a Google Hangout tomorrow at 1pm EST/10am PST. RSVP for the event here even if you can't watch it live – that way you'll have access to the recorded YouTube version. Hope to see you then!