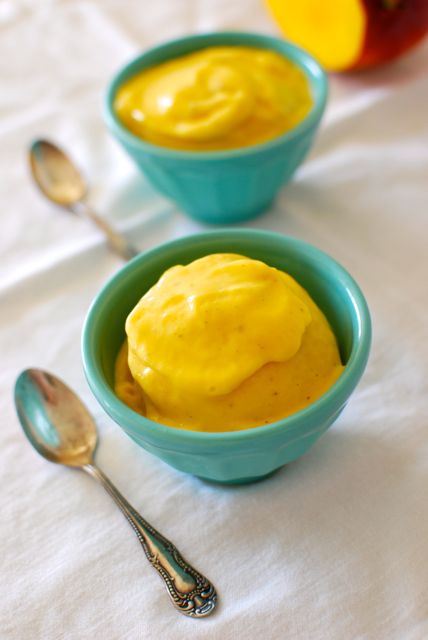 Nearly every night after dinner, Lucy says "Mom! Let's make Mango Frozen Yogurt!"
I rarely argue.
Truth is, all three of us get equally excited about this sweet, smooth soft-serve. And it only requires two (healthy) ingredients!
Two Ingredient Mango Soft Serve makes a perfect snack on a hot afternoon, or can be sprinkled with nuts or chocolate for a more indulgent after-dinner treat.
Let the kids help with this one: they'll love working the food processor and it's an impossible recipe to mess up 🙂
Two Ingredient Mango Soft Serve
Ingredients
2 cups frozen mango chunks
⅓ cup organic plain Greek yogurt
Instructions
Cut frozen mango chunks in half, or in slightly smaller chunks and place in a food processor fitted with the blade.
Pulse chunks (holding on tight!) until they become coarse crumbs, then scrape down the sides of the bowl with a spatula and blend again until they start to meld into a softer paste.
Add the Greek yogurt and continue whirling the mixture in the food processor until you reach a soft-serve consistency (1-2 more minutes). Add a little more Greek yogurt if you like a tangier flavor or softer texture.
Serve right away with toppings of choice, or place in the freezer for 30 minutes before serving.