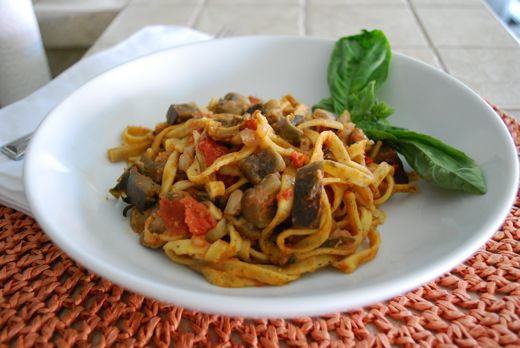 I saw the Barefoot Contessa make an eggplant pasta the other day and it looked not only divine, but fast and easy.  I immediately made my own version (just heavier on the veggies and lighter on the cheese) and sure enough, it was every bit as good as it looked.  Cheesy, hearty, and satisfying — perfect for a Meatless Monday meal.  Enjoy!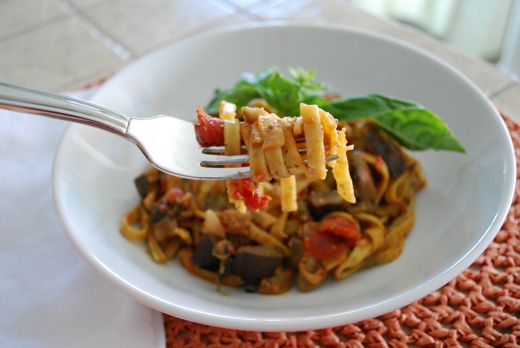 Cheesy Eggplant Pasta
Ingredients
¼ cup Extra Virgin Olive Oil
1 cup Fresh Basil Leaves, rough chopped
1 whole Yellow or Brown Onion, chopped
8 ounces White Mushrooms, sliced
2 whole Eggplant, cut into cubes
4 ounces Mozzarella Cheese, cut into cubes
28 ounces Canned Whole Tomatoes, (1 large can)
1 pound Linguine noodles
4 ounces Fresh Mozzarella, rough chopped
Instructions
Heat a large skillet over medium heat for 2 minutes. Add olive oil, onion, and a pinch of salt and saute 2 min. Add eggplant, mushrooms, and garlic and cook about 10 min, stirring occasionally. Season again with salt & pepper. Pour the juice from the canned tomatoes into the skillet, then break up the tomatoes with your fingers and add those too. Cook another 5 min (while pasta is cooking), then stir in half the fresh basil and the regular mozzarella cheese cubes.
While veggies are cooking, bring a large pot of water to a boil. Add a small handful of salt and the noodles. Cook according to package directions (if possible, get the semi-fresh pasta that only takes 4-6 minutes), then drain and add noodles to the cooked veggies.
Add a second handful of rough chopped basil and the chopped fresh mozzarella. Toss to combine, then place in a large bowl or platter and serve immediately.