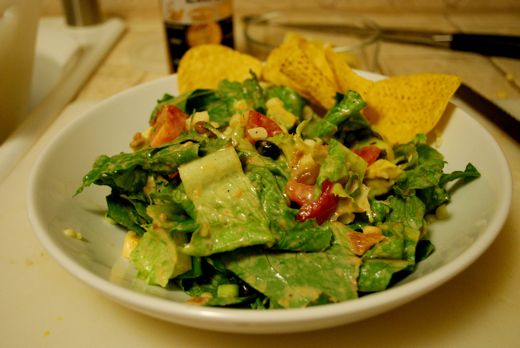 After a weekend of BBQs and beer, I'm ready for a week of salads.  The heat wave we're having is just reinforcing my craving for some cool, crunchy veggies.  Tonight I'll be making a Mexican style green salad, because the tomatoes and fresh corn are so irresistible right now that they will make this dish shine no matter what else I throw in.
There's not really a "recipe" for this salad, because you can make it with whatever veggies you like.  I like to use Romaine lettuce, fresh corn kernels, tomatoes, green onions, black beans, avocado, and bell peppers….but anything goes.  What makes it "Mexican" is the dressing.  Here's how to make it.
Mexican Style Salad Dressing
Ingredients
1 tablespoon Ground Cumin
2 tablespoons Extra Virgin Olive Oil
1 tablespoon Agave Syrup
1 pinch Kosher salt
¼ cup Plain lowfat yogurt
¼ cup Salsa Verde, or any salsa
¼ cup Fresh lime juice, from 1 lime
Instructions
In a medium bowl, whisk together all ingredients. Store any leftovers in an airtight container in the fridge for up to a week.