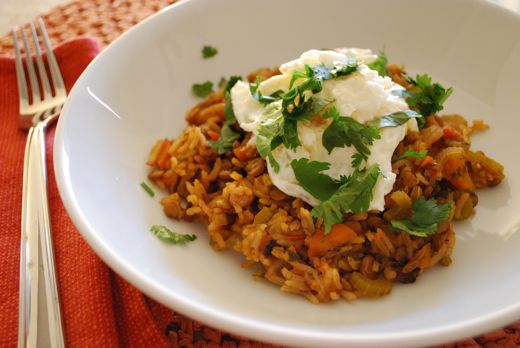 Yesterday we had what seemed like NOTHING in the fridge…and very little in the pantry.  We were hungry, ready for dinner, and didn't want to spend money on dining out.  So, I pulled out the few foods we did have and make this…
Mexican Lentils and Rice
Ingredients
5 carrot sticks
the inside stalks of a heart of celery
1 sweet onion
1 jalapeno
a few springs of fresh cilantro
½ a box of chicken broth
~1/2 cup basmati rice
~1/3 cup dry lentils
~1/4 cup canned pinto beans
½ jar chipotle salsa
2 eggs
½ box Applegate frozen turkey breakfast sausages
sprinkles of cumin, chili powder, oregano, salt and pepper
Instructions
Chop and sautee the onion, celery, carrot, and jalapeno in canola oil until soft, then sprinkle the veggies with cumin, chili powder, oregano, salt, & pepper.
Stir in the dry lentils, rice, salsa, broth, and beans and put a lid on the skillet so the lentils and rice would absorb the liquid. After about 20 minutes on low heat the liquid will absorb.
In a separate skillet fry the 2 eggs and heat up the frozen sausages.
Add a large scoop of the rice mixture in a shallow bowl and top with a fried egg, a couple sausages, and some chopped fresh cilantro.
Tyler said it was one of his favorite recent meals.  So, you never know what you're going to come up with on a random night with random ingredients!