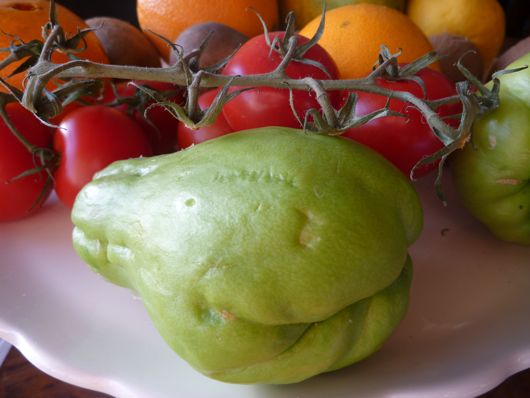 Wondering what this funny looking veggie is?  Chayote, a.k.a. type of summer squash grown mainly in Costa Rica and Mexico.  Chayote is cheap, versatile, and a great addition to soups because it retains its slightly crunchy texture and helps thicken the soup a bit.  Look for it in the grocery store near the zucchini.
Don't be intimidated by all the ingredients in the soup recipe below.  It's easy to make and hard to mess up.  When I made it for my mom a couple months ago, she said it was the best soup she's ever had and has since been begging me for the recipe.  Here it is, Mom, finally.
Mexican Veggie Soup with Chayote & Poblano Peppers

3 pre-cooked chicken sausages (Andoullie, jalapeno, cilantro, anything non-Italian)
1 onion, chopped
2 poblano peppers (the dark green kind used for chile relleno), chopped
3 cloves garlic, minced
1 Tbsp dried oregano
1 tsp ground cumin
2 tsp chipotle chili powder (or use regular chili powder & add splashes of Chipotle Tabasco)
2 chayote, diced into small cubes
1 16-ish oz jar Salsa Verde
1 15-oz can fire-roasted diced tomatoes
1 qt chicken broth
2 cups water
1 can refried pinto beans
a few handfuls of frozen corn kernels
2 cups cooked or partly cooked white rice (perfect time for store-bought packet)
large handful cilantro, roughly chopped
juice of 1 lime
Heat 1 Tbsp oil in the bottom of a large heavy pot.  Slice the sausages and place them in the pot to cook for 3-4 minutes/side or until they brown.  Remove them to a plate (put a paper towel down to drain extra grease).
Add 1 more Tbsp oil to the pot, along with the chopped onions, poblano peppers, and a pinch of salt. Saute until they begin to soften, about 5 minutes.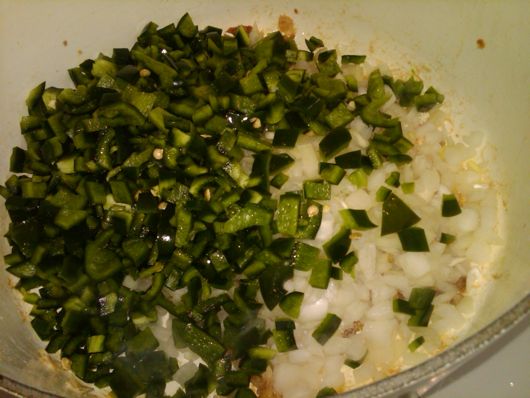 Add the garlic, spices, and chopped chayote and saute 2 minutes, then add the salsa, tomatoes, broth, and water and cook about 10 minutes.  Stir in the can of refried beans.
When the soup's reached a gentle boil, add the sausage, rice, and corn kernels.  Cover the soup and cook over low heat for about 20 minutes.  When the veggies are soft, the soup's done.
Stir in the cilantro and lime juice before serving.  Garnish with dollop of plain yogurt and eat with warm corn tortillas.
Variations: to make this soup vegetarian, omit the sausage and add a can of drained black beans.  If you want to reduce the salt content of the soup, or are feeling ambitious, use 4 fresh chopped tomatillos instead of the jar of salsa verde.  These little green things in husks are tomatillos, and they have them in most grocery stores nowadays (all you have to do is remove the husk and chop like a tomato):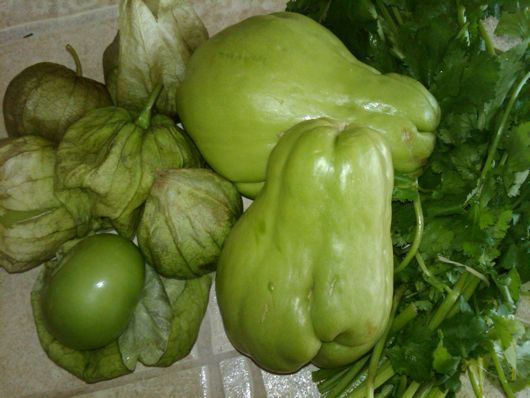 Want to see more recipes?  Check these out.