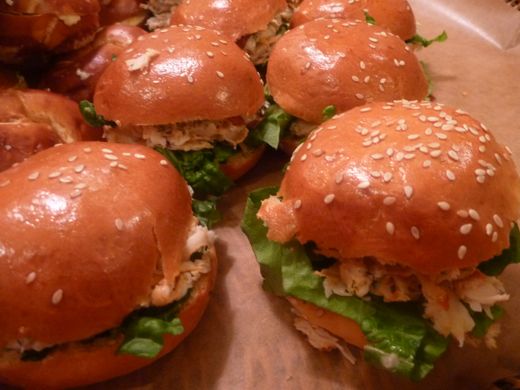 If you agreed to host a holiday meal or party this year and are now having heart palpitations because of it, it's time to rethink your menu and go for something easy.  Commit to serving just a few simple foods: you'll feel more relaxed, which means your guests will be more relaxed, and everyone will have a better time.
Mini sandwiches work perfectly for a party because you can make them ahead of time and leave them out at the party for a few hours without worrying about food getting cold or your guests getting food poisoning.  People love them because they're tasty, familiar, and can be held in one hand while sipping on a cocktail.  Here are a few ideas that my friend Kari came up with — we made them for a holiday party recently and they were all a hit!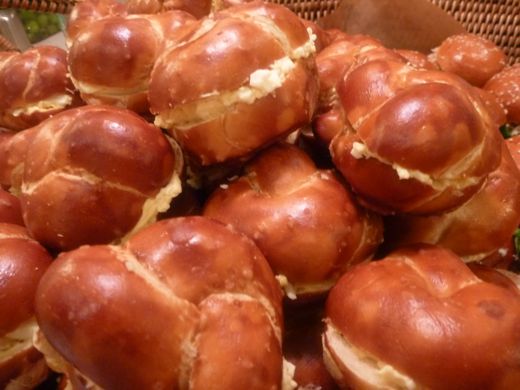 Egg Salad on Pretzel Rolls
Just whip up a batch of your favorite egg salad recipe (I just mix eggs with light mayo and a little mustard) and stuff the salad into pretzel rolls, or any small roll you like.  Keep the egg salad refrigerated until ready to serve.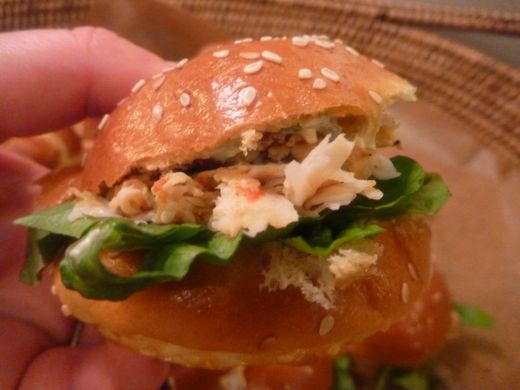 Roasted Turkey with Baby Greens and Pesto
Put a little pesto on one side of a soft roll, and a little mayo on the other side, then add thinly sliced turkey breast and lettuce or baby greens.  For extra flavor, add some sliced roasted red pepper or sundried tomatoes.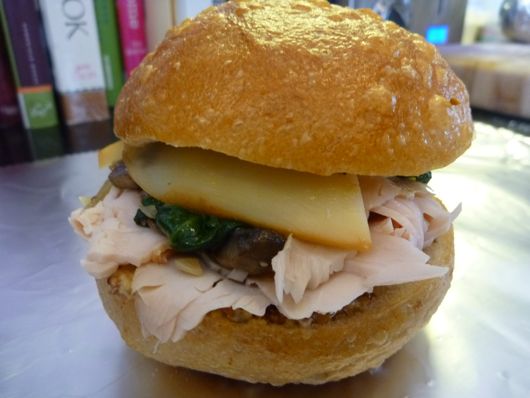 The version I make has sliced chicken breast, sauteed spinach with garlic and mushrooms, Dijon mustard, and smoked Gouda cheese, but make them with whatever you like or have around.  These sandwiches get individually wrapped in foil and warmed in the oven, so you can serve them hot in a big basket and they'll stay warm for quite awhile.
Want a few appetizers to supplement your sandwiches?
Caviar and Creme Fraiche Topped Potato Chips
And here are even a few more easy party ideas.
**Kari Lauritzen, who created the top 3 sandwiches pictured above, is my friend and fellow personal chef in Los Angeles**