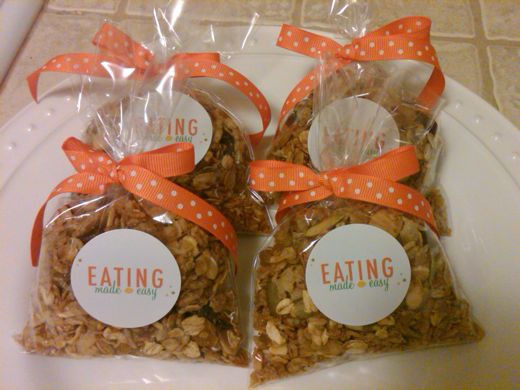 Need some last minute Christmas gifts?  Make this enormous batch of my mom's granola (fair warning: it's addictive and hard to keep from snacking as you're baking!) and package it up in bags or mason jars to give to the food-lovers in your life.  No real cooking or baking skills required — anyone can make this.  It's also a great favor for your holiday party guests — just put it in little bags with a ribbon and store in a basket by the door for people to grab on their way out.  Just make sure to keep a few handfuls for yourself!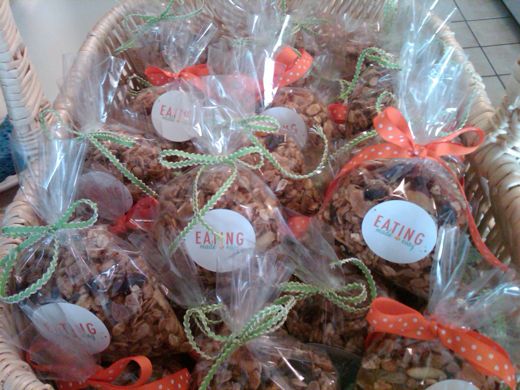 Mom's Snacking Granola
Ingredients
½ teaspoon Cinnamon
½ teaspoon Ground Nutmeg
1 ½ cup Walnuts, rough chopped
1 cup Toasted Slivered Almonds
7 cups Rolled Oats
2 cups Flaked coconut
2 cups Puffed Rice Cereal
1 ½ cups Canola Oil
1 ½ cups Honey
1 cup Corn Syrup (light)
2 cups Golden Raisins
1 ½ cups Dried cranberries
Instructions
Preheat oven to 325. In a large bowl, combine oats, coconut, puffed rice (can use Puffed millet or Rice Krispies), and nuts.
Pour oil, honey, and corn syrup into a microwave-safe bowl or large Pyrex measuring cup. Microwave until warm enough to pour (20-30 seconds) then pour over dry ingredients and stir until everything is evenly coated.
Bake granola in a large roasting pan at 325 for 45 minutes to 1 hour, stirring every 10-15 minutes. Granola is done when it's golden brown.
Remove granola from oven and spread out on 2 large cookie sheets. Stir in cranberries and golden raisins and allow to cool to room temperature.
Notes
Pack into little bags or mason jars to give as gifts, or store in airtight containers until ready to eat. This recipe makes A LOT of granola!