Just because I'm a personal chef with a food-related blog does not mean I'm always motivated to cook.  I do love to make food and actually find it relaxing, but the truth is I'm a real person with a real life that often gets in the way of preparing meals.  So most of the time, my husband and I eat meals that are thrown together at the last second with whatever we have in the fridge.  Cooking for yourself or your family is not about wowing people with every bite, it's about using what you have to make something quick, simple, and nourishing.  Sometimes the food will be tastier than other times, but all the time, meals are a chance to unwind, connect with those you care about, and fuel up for whatever you have to do next.
The picture above is an open-faced salmon salad sandwhich we recently had for dinner — 2 nights in a row.  The only protein we had in the house was a can of salmon, the only grain we had was half an old baguette, and the only vegetables we had were a couple stalks of celery, a green onion, and a large tomato.  We could have gone out, but that would have been expensive, time-consuming, and with our new baby, quite a production.  So this is what we ate.  Simple, but it was actually really good.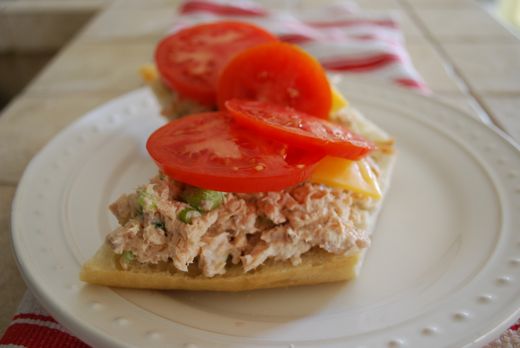 Here's my recipe for salmon salad (just like tuna salad, but with heart-healthy salmon).  Keeping canned salmon or tuna, canned beans, eggs, or frozen sausages/ground meats on-hand is a great way to ensure that you can always make a meal in a flash, because the protein part of the meal is often the trickiest.  Here are some more tips for what to keep around so that quick meals are easier to whip up.