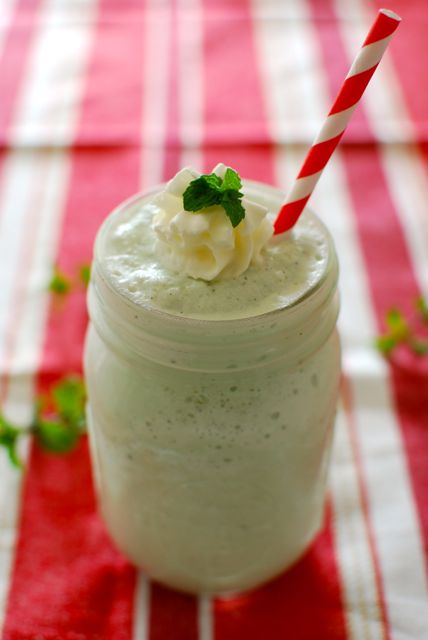 Every March I'm tempted to indulge in a Shamrock Shake (or two) in honor of St. Patrick's Day. I'm all about a splurge, but I hesitate on this one because I know a traditional green shamrock shake includes a large helping of artificial colors – and probably artificial flavors too.
So this year I decided to create my own all-natural shamrock shake. This creamy, minty shake gets it's color from real mint plus a little avocado. It tastes as minty and creamy as the original version, only you can rest assured you're only eating real, natural ingredients.
Healthy Shamrock Shake
Now you can enjoy a shamrock shake without any of the unnatural colors or flavors!
Ingredients
½ cup low-fat milk (1% or 2%)
¼ of an avocado
3 big scoops organic vanilla ice cream
Big handful of fresh mint leaves
½-1 tsp peppermint extract
Ice cubes, to taste
1 square organic or all-natural mint chocolate (optional)
Instructions
Place milk, avocado, mint and peppermint extract (I used 1 tsp) in a blender and blend until smooth.
Add ice cream, 5-6 ice cubes and chocolate (if using) and pulse, then blend on high until you have desired milkshake consistency. Add more ice cubes if desired.
Notes
If this shake is not sweet enough for you, blend in 1 Tbsp agave syrup. If you want an even greener color, add a small handful of spinach leaves - you won't even taste them!
If you like a little crunch or more chocolate in your shamrock shake, add a couple crumbled Thin Mint cookies. These are by no means natural but they sure taste good!
Also, thank you to everyone who entered the Whole Foods gift card giveaway. Your tips were so wonderful that I'm going to do a follow-up post featuring many of your grocery shopping strategies!
The randomly chosen winner of the gift card (#25, chosen by random.org) is Maria. Congratulations!